What's the latest on the integrated reporting front? And how can preparers produce a better IR that is more useful to investors and stakeholders?
By Nazatul Izma
Integrated reporting (IR) is continuing to gain visibility and support globally, slowly but surely.
Globally, more and more influencers are continuing to throw their weight behind IR. At the recent Integrated Reporting Breakfast Talk 2017 at the Securities Commission, Dr. Nurmazilah Dato' Mahzan, CEO, MIA, recounted some of the key global updates strengthening IR:
Investors reinforcing support for non-financial disclosures. As of 16 October 2017, Australian asset owners and some of Europe's largest institutional investors had put their names to a statement supporting better disclosure of non-financial information.
The updated UK FRC guidance on Strategic Report strengthens the alignment between the Strategic Report and Integrated Reporting in several important ways, in particular by recommending that non-financial information should be integrated throughout the Strategic Report, as of 15 August 2017.
The European Commission (EC) adopted non-binding guidelines on the disclosure of non-financial information by companies which aims to help companies to disclose relevant and useful information on environmental and social matters in a consistent and comparable way, as of 26 June 2017.
The IFAC had released a paper stating that "IR is the way to achieve a more coherent corporate reporting system, fulfilling the need for a single report that provides a fuller picture of organisations' ability to create value over time", as of 11 Jan 2017.
IR was included in the Philippines Corporate Governance Code which came into force on 1 January 2017 and is expected to encourage increasing number of companies to use the International IR Framework.
The Integrated Reporting Committee (IRC) of South Africa welcomed the release of the King IV Report on Corporate Governance for South Africa 2016 (King IV) as of 2 Nov 2016.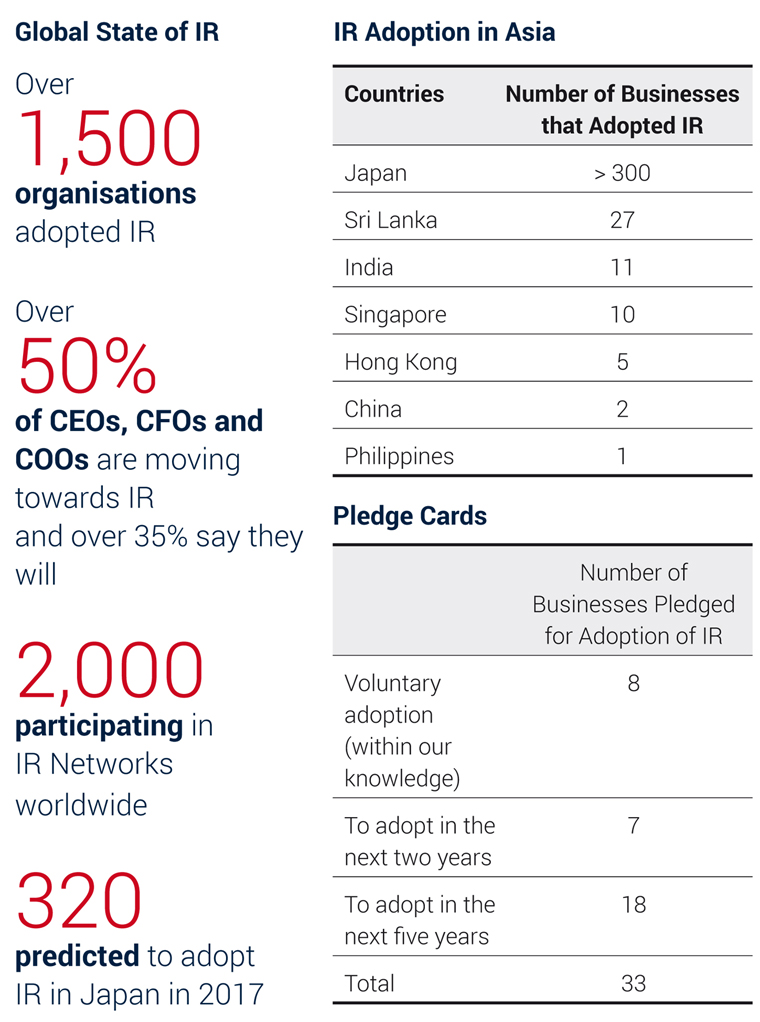 Dr. Nurmazilah also mentioned one of the key initiatives that support IR in the local context is that IR was incorporated in the Malaysian Code on Corporate Governance (MCCG), and large companies are encouraged to adopt IR. As an advocate of IR in Malaysia, MIA had also produced its inaugural IR for the 2016/2017 financial year with the theme #NationBuilding to encourage other adopters.
Her presentation was followed by a lecture by Professor Goolam Modack, Associate Professor – College of Accounting of University of Cape Town, South Africa, speaking on South Africa's experience in IR. This was followed by a panel discussion featuring Prof. Goolam,  Mustamir Mohamad, Group CFO, Sime Darby, Nor Fadhilah Mohd Ali, Group CFO, Telekom Malaysia, Nadia Zainuddin, Securities Commission, and moderated by Chiam Pei Pei, Head of Capital Market and PAIB, MIA. Some of the key points from the discussion included:
IR lets you share your unique Value Creation Story – Early adopters find that IR is more communicative as opposed to the normal annual report, and it is a platform for sharing their value creation stories to the internal and external stakeholders, especially employees and investors. IR also enables them to share their medium and long-term growth strategies, and it is a starting point for a more meaningful and insightful conversation with analysts and investors. According to the companies, feedback from investors is that they appreciate the disclosure on long-term strategies whereas analysts appreciate disclosures like five years' historical financial highlights and explanations of terms of trends and movements.
IR benefits Companies – IR is not just about the final output, which is the report itself, but it is a transformative process. When companies go through the process of integrated thinking and analysing the business model, it is beneficial to that organisation in clarifying their thinking, purpose and value to stakeholders and also breaking down internal silos.
Cost Challenge – As a rule of thumb, costs are similar to the costs taken to produce an annual report. Rather than costs, the challenge is to form a cross-functional team to collaborate and produce a connected story, as this entails breaking down the internal silos.
Determining Materiality – The materiality concept is important, and organisations are supposed to determine materiality based on stakeholder engagement and inclusion. But it is challenging for novices to collect information from external stakeholders to determine materiality, and companies might want to defer this to the second or third year of their IR journey.
How to Get Started – Panellists recommended doing a gap analysis to identify your unique barriers to IR and the areas where your organisation is lacking.  Do a checklist to assess the gap between your present corporate reporting practices and the IR framework on preparing an integrated report by the International Integrated Reporting Council (IIRC), as a starting point.
Appoint a Champion – There has to be a driver within senior management, such as the CFO or head of communications, who can drive IR and present the IR project to the Board. Panellists agreed that support at Board level is very important to ensure the long-term take-up and success of IR.
As an experienced adjudicator of integrated reports, Prof. Goolam was also asked about the key factors that adjudicators look for in excellent IR. He shared that these include:
Articulation of the value creation story – a good IR demonstrates understanding of business and the context in which the organisation operates, whereas an excellent one takes it to the next level by demonstrating connectivity and linkages. The better the integrated thinking, the better the connectivity of information.
Disclosure of KPIs and performance measures across the capitals – these should be both quantitative, qualitative and comparable, and explain how these capitals are used and linked to strategy and value creation.
Disclosure of risks – a good IR is balanced and tells the negative side of the story, discloses risks and how these are managed.
In concluding the breakfast talk, Simon Tay, Executive Director, Professional Practices & Technical, encouraged participants to sign the pledge cards for IR adoption, with the long-term outcome of enhancing the quality of external reporting in Malaysia.