By Amalina Anuar
What are some basic dos-and-don'ts to adopting robotics and capitalising on the various opportunities it offers? Thought leaders at the recent MIA International Accountants Conference 2018's Plenary 2 session on 'Robotics: Fact and Fiction for the Future CFO' offered some tips:
DO understand what robotics is all about.
There are several types of robotics relevant to accounting: namely, application programme interfaces (API) and robotics process automation (RPA).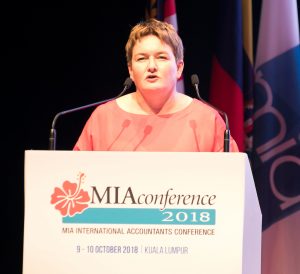 Though API is still critical, noted Helen Brand, CEO of ACCA, issues with availability, integration between different systems, time-consuming set-ups, as well as licensing and operating costs make it a less favourable first foray into robotics.
Contrastingly, RPA is more accessible. It has no complex programming and can be easily configured by end users. Essentially, RPA entails a robot using software to mimic and repeat what a human employee does using the number of input keystrokes, for instance.
"It is replicating the exact actions the human would perform [in] that activity," said Brand.
Alvin Gan, Executive Director and Head of KPMG's IT-Enabled Transformation cautioned users not to mistake RPA for physical robots. "Robotics in that word stands for software that sits on top of all your other solutions, whether it is ERP or a CRM solution. So that means it can cut across your finance function. It cuts across HR, cuts across marketing and so forth."
DON'T automate unsuitable and inefficient processes.
Tasks that benefit most from being automated are "voluminous, rule-based and dependent a lot on human behaviour, human involvement," explained Gan.
Organisations must also review processes to ensure that they are lean before being automated, said Ray Ng Kar Teik, Senior Manager, Averis Sdn Bhd. "Cut down all the unnecessary process step or else you will not be automating something which is effective."
Gan added that organisations should not rely on IT departments alone when automating. "What we are trying to automate is the business, so business involvement is very key," he explained. "If we choose the wrong process, that will set off the wrong tone. So the involvement of business [professionals] from finance is very key to make sure that automation is done well."
In this sense, both business and IT functions must communicate and understand each other's needs for successful automation.
DO manage expectations.
Albeit RPA is a long-term asset, Ng warned that it will be an operating expenditure for the first few years due to the many test-runs and training hours involved.
Further, Gan added, "There are some incapabilities of RPA and this needs to be explained very well to the business user." Otherwise, disappointment will ensue.
There should also be no misconceptions that RPA means letting robots record everything. Ng advised organisations to document the rules/inputs for any automated processes, lest all the replications and relevant reference materials be erased when certain employees leave the organisation.
DON'T ignore whole-of-company engagement on robotics.
Greater staff involvement and support is key. This is because, as pointed out by Alan Hatfield, Executive Director, Strategy & Development, ACCA, employee resistance to adoption is one of the top three challenges vis-à-vis automation along with IT legacy systems making implementation difficult, and difficulties combining RPA with other technologies.
Change management, he emphasised, as well as a clear communication strategy on how RPA works and its benefits is very important.
Organisations can also highlight how indispensable employees are even with RPA's onset. Ng added that human staff are still necessary to see organisations through multiple rounds of automation, contribute original and creative ideas, and writing assumptions into the robotics software.
He further encouraged more analytical training and upskilling employees to a "post-RPA level".

DO promote data accuracy and security.
Inputting good data is the first step to better RPA. "Getting good data," acknowledged Gan, "will be the next challenge a lot of organisations are facing today because it's garbage in, garbage out."
He further noted that organisations cannot fully rely on machine-generated data. "There must be checkpoints within the process itself… where the accountants or the CFO has to come in and validate some of this information."
Both the panellists also underscored the importance of data security. Data processing should be free from any external interference, said Ng, while Gan highlighted that there is "no point spending a million dollars on tech and then you buy a two-dollar padlock from the market".
"Because it is something digital, it needs digital protection," noted Ng.
Cybersecurity education, added Gan, is critical since employees may not be implementing the best cybersecurity practices, such as by leaving passwords lying around.
DON'T jump the gun.
Instead of automating everything from the get-go, Gan advised organisations to get a demo or proof of concept (POC) from consultants or vendors to first understand how RPA works and to phase it in slowly but surely.
Overall, robotics is the logical next step for the forward-looking accountant. It offers many opportunities for future CFOs, since it bolsters finance's role at the heart of the business.
As Brand puts it, disruptive technology like robotics helps in "shaping [business'] future strategy, managing its performance, driving innovation, supporting more effective risk management and of course better decision-making."
"Perhaps the biggest benefit," noted Hatfield, "is that it allows the truly talented professionals to focus on truly adding value to the business."
While adoption rates are higher in larger economies and organisations, the 49% of Malaysian practitioners who are currently trialling or deploying indicate that the trend is already on the upswing in this region.
This trend will likely only accelerate in the future. Robotics is already an exciting frontier now, noted Brand, but it is on the cusp of creating even greater impact and value as finance teams start to combine robotics with other emerging smart technologies.
Anyone who wishes to remain relevant, if not ahead of the pack, should thus jump on the robotics bandwagon soon.
"Professional accountants can either be swept along by the digital tide," she concluded, "or they can acquire the tools needed to master the current and steer their organisation forward to fresh opportunities."