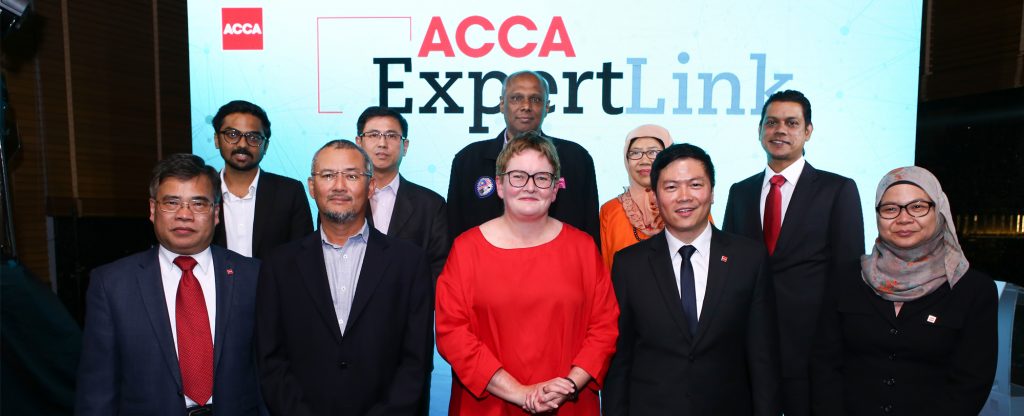 University boost
Accountancy students at Malaysia's public universities now have the opportunity to fast-track their journey with the launch of the ACCA INternary programme.
The first-of-its-kind scheme is a collaboration between ACCA, public universities and ACCA Approved Employers. It provides accountancy undergraduates with an accelerated pathway to attain a professional qualification while acquiring the industrial experience required to qualify as an ACCA member, all within two years of graduation.
The participating universities are Universiti Teknologi MARA (UiTM) and Universiti Malaysia Terengganu (UMT), with more expected to join. The ACCA Approved Employers are Maybank, PwC, Deloitte, EY, KPMG, Baker Tilly Monteiro Heng, Grant Thornton Malaysia and Paramount.
ACCA INternary: towards 2025
The ACCA INternary programme supports the Ministry of Higher Education's effort to strengthen work-based flexible learning through its 2u2i mode of learning. This enables the blending of classroom and internship, as envisioned by the Malaysia Education Blueprint 2015-2025.
ACCA chief executive Helen Brand said that ACCA INternary will develop well-rounded graduates who are well prepared for the accountancy sector.
'The universities' commitment to teaching ACCA papers in the degree programme will ensure students are well supported in their ACCA journey,' she said. 'Meanwhile, the employers' commitment to support the year-long internship provides the students with the relevant experience needed towards qualifying as ACCA members and also potential future employability.'
The programme was launched by Professor Dr. Noor Azizi Ismail, Deputy Director General in the Ministry of Higher Education. Also present were UMT Deputy Vice- Chancellor Professor Dr. Noor Azuan Abu Osman, UiTM Assistant Vice-Chancellor Professor Datuk Dr. Mustaffa Mohamed Zain, Brand and ACCA Malaysia head Edward Ling.
At the  launch, Brand highlighted that ACCA's research into the future of the profession found the younger generation places a high premium on experiential learning. 'In surveying this generation, we found that they prefer on-the-job learning and other personalised training interventions such as mentoring and coaching, finding these most effective,' she said.
Students will study on campus for three years and undertake one year of industry internship while also pursuing the ACCA Qualification. Selection will begin after year two and will require a CGPA of no less than 3.5 and a level of English proficiency. Students will spend six semesters on campus, with the first four following a standard course. Year three comprises an express programme with embedded ACCA papers while year four will combine internship with more papers.

ExpertLink launches
ACCA ExpertLink was launched by Helen Brand and Edward Ling in Kuala Lumpur in October. The first of its kind in the region, the 12-member panel brings together a select group of industry experts to advise ACCA on its thinking on current and future trends affecting the profession and business in Malaysia.
'As the Malaysia landscape evolves hand in hand with our accounting profession, there is a need to support our ACCA professionals with the latest information and best practices,' Ling said. 'That has opened up an opportunity for ACCA to form a platform made up of experts in their respective fields to help our people to stay on top of their businesses.'
Brand added that members' input is important in the delivery of ACCA's research and insights into the profession. 'One of ACCA's enduring strengths is its ability to offer the profession and our members a compelling global and local perspective,' she said. 'The fact we can call on input from the largest global family of professional accountants – 208,000 members across 179 countries – enables us to explore issues with unrivalled insight and scope.
'As we've developed our insights, we've also drawn in more and more member perspectives. This gives what we produce added relevance and credibility, helping reflect back the global professional and economic picture to our membership and beyond.'
Brand cited ACCA's Global Economic Conditions Survey, carried out with the Institute of Management Accountants, which is the largest regular economic survey of accountants in the world.
'ACCA ExpertLink in Malaysia is the latest important example of us drawing on the unparalleled expertise of ACCA professional accountants and other valued experts,' she said.
Brand outlined ACCA ExpertLink's objectives: to bring together experts to advise and guide ACCA on its thinking on current and future trends and issues in Malaysia and globally; and to be a key part of ACCA's thought leadership voice through ambassadors who will help propel the growth of ACCA in the region. The focus areas of the forum are tax, the public sector, digital and technology, market and business trends, and SMEs.
'As our technical experts in market, our forum members will influence the direction of ACCA Malaysia's policy positions on key issues, including consultation exercises from national and international standard-setting and regulatory bodies, and advise on initiatives such as events, publications, training and professional insights projects,' Brand said.
'In doing all this, ACCA ExpertLink will fulfil its most important role: preparing ACCA members for tomorrow's challenges and helping future proof the next generation of ACCA professionals.'
ACCA ExpertLink: who's who?
Jeffrey Chew, group CEO, Paramount
Datuk Amiruddin Abdul Satar, president and managing director, KPJ Healthcare
Datuk Wan Selamah Wan Sulaiman, former accountant-general Malaysia
Datuk Lock Peng Kuan, partner, Baker Tilly Malaysia 
Datuk Seri Garry Chua, president, Malaysia Retail Chain Association
Puan Sharifah Najwa, senior director, SME Corp
Dr Ng Boon Beng, finance director, Oracle
Thillai Raj T Ramanathan, chief technology officer, MIMOS
Kevin Mitchell D'Cruz, regional IT head, Lazada, Alibaba
Thenesh Kannaa, partner, TraTax
Dr Choong Kwai Fatt, tax specialist, Kwai Fatt & Associates
Ng Sue Lynn, executive director, KPMG Malaysia