There is a clear business case for putting women in the C-suite. Numerous research studies have shown that supporting gender diversity in leadership and breaking glass ceilings can be a driver for organisational outperformance.
However, although representation of women has increased across all levels of management, women still tend to be underrepresented, especially at senior management and board levels. To accommodate more women and bring out their talents and contributions, there needs to be changes in culture, mindsets and behaviour, both among women and men who are their partners at work and in life.
To bridge the gap, MIA is organising its inaugural MIA Women Leadership Symposium 2020 with the theme of LEAD TO BE EQUAL. Inspired by the International Women's Day 2020 theme of #EachforEqual, this means that all women have to take responsibility to call for culture change and adopt the behaviours that can pave the way for greater representation and leadership, irrespective of gender.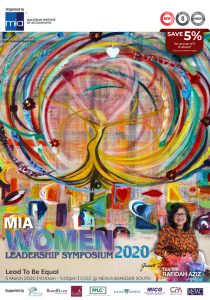 MIA hopes that women will be able to adopt these positive behaviours inspired by the Women Leadership Symposium, which brings together women speakers who have succeeded in many spheres – government, corporate, technology, investment, entrepreneurship and sports – to share their insights and tips for cracking the leadership conundrum. Come listen to the "Iron Lady of Malaysia" Tan Sri Rafidah Aziz, Datuk Nicol David and a score of other talented and innovative leaders as they share their strategies and insights to success.
The following are the sessions that delegates can look forward to at the Symposium:
LEADING IN THE C-SUITE: Gender Equal for Sustainable Growth
Gender diversity is a business issue that can make the difference between companies that lead or lag. This session seeks solutions to creating a gender-equal boardroom that enriches engagement and champions equality for sustainable and informed growth.
LEADING IN DIGITAL: Putting Women at the Heart of the Digital Revolution
The digital revolution is the single biggest driver of change in the world today, but the tech world is still gender biased. How can we tilt the scales to attract more women to participate and be drivers of digital transformation, rather than just adopters and bystanders?
LEADING IN BUSINESS: Outstanding Female Investors
Follow the diverse women who have achieved success by demonstrating smart investment decisions, whether in entrepreneurship, high-level executive positions in top companies and institutional investment. This session shares how you too can amass the critical knowledge and intelligence needed to execute the right business and investment decisions, regardless of your role or rank.
Standing in the Eyes of the World
Be inspired by Malaysia's leading women who are standing tall, shining bright and taking great strides, in diverse spheres.
Special Session with Tan Sri Rafidah Aziz
Wise words and insights from Tan Sri Rafidah Aziz on how women can leverage on their key strengths and abilities to become more effective leaders in a world that increasingly celebrates diversity and equal opportunity.
So, make a date at this Symposium and explore how you can develop your latent potential as a leader to the max.