As we grapple with the fallout of COVID-19, it is clear that we live today in a VUCA world where we are surrounded by Volatility, Uncertainty, Complexity and Ambiguity.
This is perhaps the most challenging time ever to be a governance professional, a Board member or those charged with governance (TCWG). Other than the impacts of COVID-19 and its containment measures that have stymied growth, governance professionals must manage disruptions and risks that range from digital to legislative to talent, reputation and culture.
Thankfully, unceasing innovation that responds to risks has surfaced tools and technologies that can help Boards and TCWG to better manage and derive value from these risks.
To be held virtually over two days, the Governance Symposium 2020 jointly organised by MIA and the Malaysian Institute of Corporate Governance (MICG) focuses on how Boards and TCWG can instil robust ethics and compliance, while leveraging on these technologies to enhance good governance and trust.
At the Symposium, you will hear from expert speakers on:
STRENGTHENING CORPORATE GOVERNANCE AND ECONOMIC GROWTH DURING THE COVID-19 PANDEMIC
For 2020, most organisations have recognised COVID-19 and pandemic risk as their prime challenges. This session will discuss, among others:
the Corporate Governance Outlook for the remainder of 2020 and beyond
how companies are advised to align their financial strategy to manage costs, prioritise revenue generation and focus on corporate liability
how Boards in playing their fiduciary roles must ensure that sound and relevant corporate governance policies are in place for the new normal
how regulators need to balance effective regulation and market needs for sustainable growth in this new normal.
GOVERNANCE IN A DYNAMIC BUSINESS ENVIRONMENT: A GUIDE FOR 21ST CENTURY BOARDS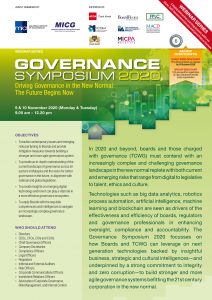 Boards in the 21st century must navigate an increasingly complex business environment rife with risks that threaten sustainability and long-term value creation such as the COVID-19 pandemic, technological disruption, talent crunch and climate change. This session offers a playbook for Boards in adopting new technologies and adapting sustainable strategies to become more agile, resilient and relevant 21st century organisations.
BUILDING A NATION OF HIGH INTEGRITY AND FREE OF CORRUPTION
This session highlights the Malaysian anti-corruption journey and the direction of the nation as it strives to embed a zero-corruption culture as highlighted in the National Anti-Corruption Plan (NACP) 2019-2023 and in alignment with the UN Sustainable Development Goal (SDG) No 16 –Target 16.5: Substantially Reduce Corruption and Bribery. This session discusses the vital decisions and actions that organisations can take to build values-based governance systems against corruption that are stronger, agile and able to pre-empt risks.
THE IMPACTS OF NEXT GENERATION TECHNOLOGIES
Faced with a vast array of technologies such as blockchain, big data analytics, artificial intelligence (AI) and machine learning, blockchain, cloud services and cybersecurity, Boards, TCWG and governance professionals need to embrace a digital mindset and gain skills to ensure they are able to formulate and apply the relevant governance framework and strategies. This session sheds light on how governance professionals can leverage on next generation technologies to respond to the opportunities and risks of technological disruption.
CASE STUDY – FROM WORST TO BEST AND BEST TO WORST IN GOVERNANCE
This session derives and shares key takeaways from case studies of companies that have gone from being the worst to the best in corporate governance and vice versa. Get insights into best practices that can improve your organisation's corporate governance practices.

DEALING WITH AN UNKNOWN FUTURE BUT WITH GOOD GOVERNANCE
The Symposium begins with a session on strengthening organisations against pandemic risk, and ends with how Boards and TCWG must lead with courage in this unprecedented crisis. Most important is for Boards to respond with insights and strategies that are aligned with the organisation's purpose, values and ethics. This session advises Boards and TCWG on managing panic and refraining from cutting costs aggressively, while emphasising the importance of investing in talent, technologies and efficient merging of functions to drive productivity and sustainable growth.