As organisations focus on integrating environmental, social, and governance (ESG) initiatives into their strategy, it is equally critical to elevate ESG accounting and reporting practices to support investors in decision-making processes for voting and investment. Put another way, getting the ESG proposition and disclosure right is vital for organisations to heighten value creation and secure the long-term survival of a company.
As such, the Malaysian Institute of Accountants will hold the ESG & Sustainability Accounting Conference 2022 on 18 October 2022 at Connexion Conference & Events Centre @ Vertical, Bangsar South, Kuala Lumpur, with the theme "Shaping the Future of ESG Reporting" to help accountants leverage their skills and integrate enterprise sustainability in ESG accounting and reporting.
Participants will benefit from expert panel discussions on topics such as managing ESG risks for long-term economic sustainability, ESG disclosures and their significance, and new techniques to embed sustainability within an organisation's value proposition.
Following are the sessions scheduled for the Conference:
INTEGRATING ESG RISKS AND OPPORTUNITIES INTO BUSINESS STRATEGY
This panel session will discuss the importance of incorporating ESG risks and opportunities into an organisation's business plan and the impacts on its performance, sustainability and social obligations.
THE NEXT PHASE FOR ESG: ENSURING SUSTAINABILITY INFORMATION IS DECISION-USEFUL
Looks into the harmonisation of global reporting standards, sheds light on the BURSA sustainability disclosure requirements and previews the Malaysian Climate Change Bill legal framework to help organisations elevate corporate reporting and decision-making.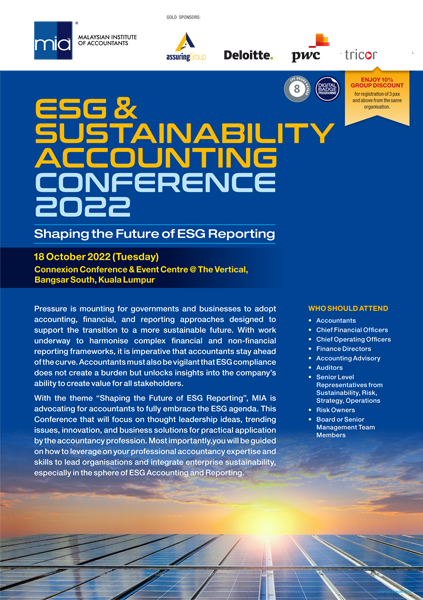 INVESTORS' PERSPECTIVE ON ESG
This session focuses on ESG disclosures and metrics, with the goal of assisting finance and the board in generating enhanced corporate reporting to meet investor expectations.
GETTING STARTED WITH ESG REPORTING
Guides participants through a practical approach to incorporating sustainability into their organisation's value proposition enroute to launching ESG reporting.
COLLABORATIVE PARTNERSHIP: THE SUSTAINABILITY & FINANCE TEAMS
Explains how the finance and sustainability functions can work together to drive ESG implementation as well as excellence in disclosure for improved outcomes.
SCENARIO ANALYSIS STRATEGY: FROM PLANNING TO STRESS TESTING
Covers the risks and practical measures that organisations can take to enhance their scenario planning and stress testing for better risk management and business continuity
For more information on the Conference, please click here.