The MIA International Accountants Conference 2018 promises to be even bigger and better.
By Nazatul Izma
Every year, MIA strives to outdo itself at its flagship professional development platform – the MIA International Accountants Conference (MIAC).
For 2018, 3,100 delegates – more than last year – are expected to throng the Kuala Lumpur Convention Centre to get insights into the latest topics that are important and current for accountants and members of the profession.
'This is the differentiation between the MIAC and our other events. The MIAC is a one-stop conference that gives you variety and a flavour of the issues. We tell you what areas you cannot ignore if you are an accountant in business, and what you need to know if you are an auditor or a tax practitioner,' explained G. Shanmugam, MIA Executive Director – Strategy & Professional Development and MIAC 2018 Conference Director.
If MIA members and non-members attend the MIAC, they grasp the breadth of the issues. Subsequently, they can enrich themselves by participating in focused CPD programmes. 'This is the value proposition that we want to provide for our members in supporting their professional development and lifelong learning,' continued G. Shan.
With the theme of Riding the Digital Wave, Leading Transformation, the focus of the MIAC 2018 is on digital once more, as MIA has observed that its members still require guidance on how to adopt technologies for business transformation. Earlier, MIA had organised the AccTech Conference 2018 to go in-depth into practical solutions and technology adoption for the profession. AccTech 2018 also featured the launch of the MIA Digital Technology Blueprint, which focuses on five principles that members and non-members can implement to adopt technology
Master Technology at MIA AccTech Conference 2018
Tech-heavy topics for the Conference will revolve around topics such as Industry Revolution 4.0 business and regulatory impacts, the disruption posed by Artificial Intelligence (AI), blockchain, cybersecurity and data analytics.
The first plenary session will focus on the theme itself, 'predicting how the profession will transform' while the content of the second plenary is yet to be decided. 'The Conference's key strategic partners – ACCA and CGMA – are coming onboard in a big way. These global professional accountancy bodies see value, so they keep coming back and being an integral part of MIAC year after year,' said G. Shan.  This year, ACCA is the Diamond sponsor and CGMA is the Titanium sponsor.
There is something for all segments of the profession. The session on audit evidence in the digital environment is geared towards public practitioners, for instance, while all segments would benefit from topics like eXtensible Business Reporting Language (XBRL) compliance, corporate reporting in the digital economy, impacts of the new leasing standard, and leveraging technologies to achieve the UN SDGs.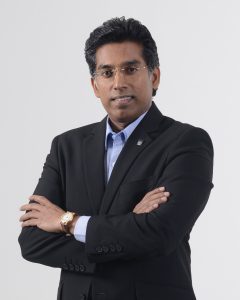 Personally, G. Shan said he looks forward to the session on economic outlook every year to understand the business landscape. This year's economics session will zoom in on the outlook for the region in ASEAN Ascending: Emerging Global Powerhouse. 'The disparities between the ASEAN economies create a lot of gaps and opportunities where we can add value and move further as an ASEAN community. This session is great especially for the growing community of ASEAN CPAs and our regional delegates.'
Finally, the Conference will wrap up with the final plenary, which is always a crowd puller. Previous years, we brought in superstars of sports. This year, we have something equally compelling planned, so do attend the Conference to find out who will be there!
Technological Ease
This year, delegates of MIAC 2018 can expect to enjoy an enhanced onsite registration experience on conference days. To ensure excellent customer service, MIA staff will be on standby to guide members.
The dedicated Conference app has also been upgraded to enhance delegate satisfaction and outcomes. 'Delegates can enjoy a more enhanced version of the Conference app, where the app can provide information and business networking either p-to-p or delegates to speakers or partners. All the Conference information and materials will be made available online, and questions can be posed through the app as well. 'The app will cover everything,' said G. Shan.
Don't Miss It
The Conference offers different benefits for different folks, he concluded.
Delegates get a platform for upgrading knowledge as professionals, and networking among likeminded professionals and as well as enjoying the luncheon entertainment. Speakers and the guest of honour get invaluable opportunity to engage with an audience of over 3,000 professional accountants. 'MIAC 2018 is looking forward to having the Minister of Finance as its guest of honour to deliver a keynote address and officiate the event and an opportunity for delegates to hear the government's latest views and policies.  Last but not least, this is a fantastic branding platform for partners and supporters to connect with their audience.
'Definitely, the MIA Conference is an experience that every member must not miss. There is something for everybody, and the energy is very different!'
The MIA International Accountants Conference will be held from 9th to 10th October 2018 at the Kuala Lumpur Convention Centre.