As a key interest group who have their collective fingers on the pulse of business, accountants' market perceptions can help support informed decision-making in business as well as sound policy making in the public sector.
As such, MIA and ACCA undertook a collaborative research initiative to provide insights into the collective view of accountants and finance professionals on the business and economic outlook for Malaysia in 2019.
A total of 399 accountants and finance professionals responded to the survey, which was conducted online between 23 November and 9 December 2018. More than three-quarters (78%) of the respondents hailed from the corporate and public practice sectors. Nearly 50% of respondents were from firms with over 300 employees, both listed or non-listed, and both top and middle management were well represented.
The following are some of the key findings of the report:
Positive Domestic Drivers. More than two-thirds of respondents ranked government policies in addressing economic issues and combating corruption as the primary driver of Malaysia's business performance in 2019.
The survey respondents also singled out Malaysia's economic growth, the weak ringgit vis-à-vis exports and buoyant consumer spending as other positive drivers for growth in 2019.

Factors Impeding Growth. Business conditions are not all rosy; 61% of respondents named the rising cost of living and low wage growth as the key factors obstructing growth. Other factors impeding growth include the negative impact of hefty government debt on public sector investment expenditure (43%), and the rationalisation of large public-private and infrastructure projects (28%).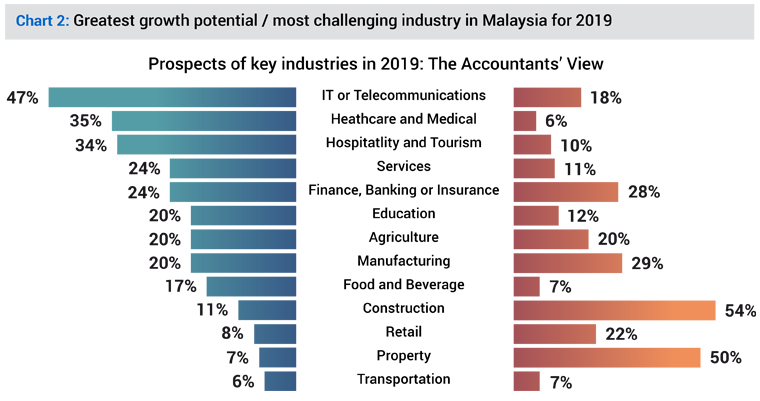 Prospects of Key Industries. Reflecting the mammoth impact of technology, unsurprisingly 47% of respondents said that IT or telecommunications had the greatest growth potential for 2019, followed by healthcare and medical, hospitality and tourism and services.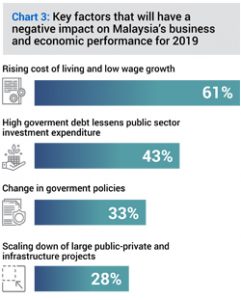 An overwhelming 54% and 50% of respondents respectively said that property and construction would be the most challenging industries for 2019, reflecting the overhang and weak demand in the sector.
Global Tailwinds and Headwinds. Interestingly, 53% of respondents opined that China's Belt and Road Initiative would be positive for Malaysian businesses, despite ongoing efforts by the government to unwind and/or dial down China projects.
On the downside, 27% of respondents are wary of the ongoing US-China trade war's potential impact to Malaysian businesses, compounded by the slowing Chinese economy.
Challenges to Growth. 47% of respondents named hiring the right talent as the leading challenge, with respondents in public practice ranking this much higher (64%) compared to the corporate sector (36%). Regulatory changes (42%) ranked as the second most significant challenge, and rising operating costs and staff costs tied at third place (41%).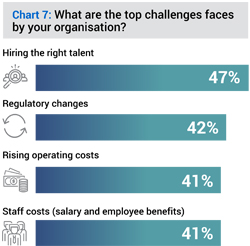 Significant Future Developments. The survey also polled expected significant developments over the next five years. Unsurprisingly, technological disruption ranked highest, with 80% predicting that the digital revolution will transform businesses while 59% of respondents foresee increased automation and artificial intelligence affecting the business status quo.
In addition, 63% predicted that regulatory or policy changes would be impactful, such as the widening of the net for services tax and digital taxation. Other trends mentioned were changes in generational expenditure patterns (38%) which will affect spending and consumption patterns and the demand for future workplace mobility (37%).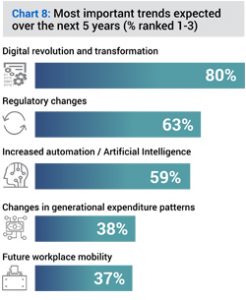 Overall Outlook. Given the domestic, regional and global factors described above as potentially impacting the Malaysian economy and business performance in 2019, 41% of respondents believe that the economy's impact on businesses' financial performance will remain unchanged in 2019.
34% of respondents, however, predict that their businesses will be negatively impacted in 2019. These concerns appear supported by recent measures of manufacturing activity and business confidence. The headline Nikkei Malaysia Manufacturing Purchasing Managers' Index™ (PMI) – an indicator of manufacturing performance hit a nadir of 46.8 in December 2018, its lowest level since the survey started in July 2012.
At the launch of the report, MIA President Salihin Abang and ACCA Malaysia Advisory Committee Chair Dato' Merina Tahir delivered their remarks, followed by a presentation on the findings by MIA CEO Dr. Nurmazilah Dato' Mahzan. Subsequently, guest of honour YB Dr.Radzi Jidin, Deputy Minister of Economic Affairs responded to these findings in his keynote address, while updating the audience on the Malaysian economic policy in relation to the midterm review of the 11th Malaysia Plan 2016 – 2020.
The event ended with a panel moderated by Sharath Martin – Regional Policy Consultant, ASEAN and ANZ ACCA and featuring Aimi Aizal Nasharuddin – Chairman, SKALI Group; Lim Fen Nee, Partner, Deloitte SEA; Mohd Shahar Yope, Group Chief Financial Officer, MMC; and Wan Suhaimie Wan Mohd Saidie, Head of Economic Research, Kenanga Investment Bank Berhad.
To view the report in full, please visit https://www.mia.org.my/v2/downloads/resources/publications/2019/01/29/MIA_Business_and_Economic_Outlook_2019_Report.pdf