In today's landscape of widespread risks and black swans, boards need to be ready for anything and everything.
MIA brings you the Corporate Board Leadership Symposium 2020, with the theme of Sustainability and Digitalisation – A New Normal, which focuses on supporting directors and boards to optimise value creation through sustainability and digitalisation while neutralising or minimising risks.
The Symposium will highlight the latest strategies and developments in:
• Managing Sustainability
As the climate change and waste crises reach tipping point, businesses must step up and become more transparent and accountable for their impacts on ESG (environment, social and governance). Sensitivity to sustainability is becoming more acute as society and consumers demand that businesses account for and minimise their footprint. In The Future: Business Sustainability, expert speaker walks boards through how you can integrate sustainability into your business strategies and value creation models to build trust and win public confidence.
• Managing Market Risk
AI and technology can be extremely useful and efficient in supporting board governance and risk management across all dimensions. Board Talk 1: Modernising Methods to Mitigate Market Risk helps boards see how current data analytics tools can be applied in analysing risks and providing accurate market information for enhancing decision making, risk management and corporate governance. As the economic outlook turns bleaker, expert speakers will also discuss the feasibility and usage of contemporary data analytics tools to measure economic uncertainty in Asian markets and manage the subsequent risk.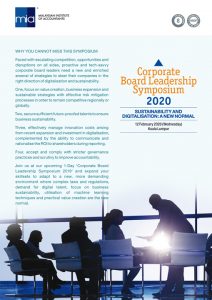 • Managing Personal Liability and Organisational Risks
New regulations expanding director and company accountability and liability – specifically Section 17A of the Malaysian Anti-Corruption Commission Act – have equipped Malaysian enforcers and regulators with the legal firepower to escalate war against corruption. Board Talk 2: Section 17A – Director and Company Accountability outlines the anticipated impacts, roles, responsibilities and accountability required of directors and corporate board leaders once Section 17A is in place and guides boards on how to implement the necessary risk management strategies and best practices.
• Managing Digital Talent
Digital talent is key to competitiveness in a world increasingly reliant on technology. To manage the human capital and people risk, boards need to refine and relook at their strategies for recruiting, developing and retaining digitally adept talent who can drive a culture of high performance in the new economy.
But employees and talent aren't the only ones who need to future-proof themselves. Directors too need to safeguard their relevance as organisations look at bringing robots onto boards to improve governance. With their vast capacity for data and analytics, coupled with immunity to corruption and human error, robots could possibly be among the best candidates for board transformation and innovation. In sessions on The New Wave: Digital Talent a Must and Board Talk 3: Robots on Board, the Symposium will look at the latest developments in onboarding AI to drive a robust corporate culture, while equipping human directors for this new co-existence in corporate governance.