By Mohd Ilham Mat Rabi
The COVID-19 pandemic and the Movement Control Order (MCO) have affected how businesses operate. In this 'new normal', businesses need to strategise and adapt quickly to survive and sustain their operations.
This article highlights the revised deadline for annual reports and the key challenges in financial reporting for listed companies in the Main Market and ACE Market of Bursa Malaysia.
Issuance of the annual report
Paragraph 9.23 of the Main Market/ACE Market Listing Requirements states that "a listed issuer/corporation must issue its annual report that includes annual audited financial statements together with the auditors' and directors' reports of the listed issuer/corporation, to the Exchange and shareholders within four months from the close of the financial year of the listed issuer/corporation".
In light of COVID-19 and the MCO as well as to ease the burden of complying with the Listing Requirements, Bursa Malaysia granted an extension of time to the listed companies with financial year ends of 31 December 2019, 31 January 2020 and 31 March 2020 to submit their annual report.
This can be depicted as follows: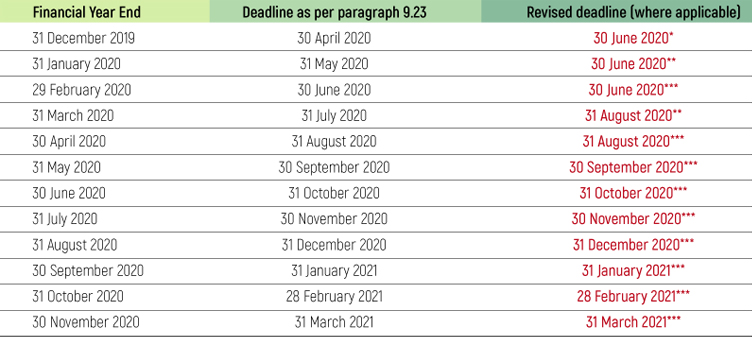 * Applying an extension relief of two months
** Applying an extension relief of one month
*** No relief given and to follow the existing deadline as per listing requirements (per Bursa announcements up to May 2020)
Notwithstanding the extension of time, listed companies are reminded to comply with their continuing disclosure obligations under the Listing Requirements, including the obligation to make immediate announcements of any material information to ensure that shareholders and investors continue to receive information in a timely manner. Bursa Malaysia will continue to monitor the situation and determine if further measures are required.
Key challenges on financial reporting
In preparing and auditing financial statements of the listed companies, some of the key challenges for the preparers and auditors to comply with the Malaysian Financial Reporting Standards (MFRS) during this challenging period are as follows:

Preparers and auditors of financial statements should also consider the impact of COVID-19 on the relevant disclosure requirements of the applicable standards above, including disclosures of major sources of estimation uncertainty at the end of the reporting periods that have a significant risk of resulting in a material adjustment to the carrying amounts of assets and liabilities within the next financial year under the MFRS 101 Presentation of Financial Statements and disclosures on liquidity risk, credit risk and market risk under the MFRS 7 Financial Instruments: Disclosures.
Remarks
The standards mentioned above are by no means exhaustive and are intended to illustrate some of the applicable accounting standards under the MFRS for reference purposes only.
References
https://www.bursamalaysia.com/regulation/listing_requirements/main_market/listing_requirements
https://www.bursamalaysia.com/regulation/listing_requirements/ace_market/listing_requirements
https://www.bursamalaysia.com/about_bursa/media_centre/media_releases?year=2020&subject=
https://www.sc.com.my/resources/media-releases-and-announcements
http://www.masb.org.my/pages.php?id=89
https://www.pwc.com/my/en/assets/publications/2020/snapshot-pwc-accounting-implications-of-the-effects-of-covid-19.pdf
https://home.kpmg/xx/en/home/insights/2020/03/covid-19-financial-reporting-resource-centre.html
https://www.ey.com/en_ie/accounting-change/ifrs-accounting-considerations-of-the-covid-19-outbreak
https://www2.deloitte.com/jo/en/pages/audit/articles/accounting-implications-of-COVID-19.html
By Mohd Ilham Mat Rabi is Manager of Financial Reporting and Capital Market, Malaysian Institute of Accountants