The COVID-19 pandemic has created an environment that is unprecedented and challenging for practitioners of all sizes. To navigate through this new normal, practitioners need to become more agile, creative, resilient and adaptable. This is the only recourse if SMPs are to be more sustainable and relevant in these uncertain times.
The Virtual MIA SMP Forum 2020 is specially designed to equip our practitioner members for the future. Join our expert speakers as they advise SMPs on how to best adopt the necessary work norms, transformative technologies and strategies that can help you to build a sustainable practice. As SMPs form a sizeable segment of the profession, revamping and upskilling SMPs will be crucial to ensuring the profession's continuity and future relevance.
Over the two days of the forum, participants will be exposed to the latest developments and pressing issues facing SMPs. Day 1 will focus on innovation and SMP transformation while Day 2 emphasises compliance and quality. Highlights of the SMP Forum are:
DAY 1 – TRANSFORMATION
A Roadmap to The Future of SMP – Robyn Erskine, Deputy Chair of the IFAC's SMP Advisory Group presents an overview of the Practice Transformation Action Plan prepared by IFAC with support and insights from its SMP Committee. This will guide SMPs on how to transform themselves to enhance their quality and services, in order to support clients and businesses in an increasingly demanding landscape.
Talent Management – Due to the COVID-19 crisis, many companies were pressured to accommodate remote work, with employees working from home and collaborating via digital technologies and tools. Many SMPs were unprepared for digital and remote work. This session helps SMPs to establish a practical remote and digitally-ready work setup that can help revive staff morale, motivation and productivity.
Practice Diversification – Developments such as audit exemption and digital disruption threaten SMPs' traditional service offerings. To future-proof income streams, SMPs are advised to explore new service offerings in business continuity, crisis management and digital. This session looks at how SMPs can offer services such as liquidation, judicial management, cashflow management and business restructuring and continuity to businesses affected by COVID-19. Digital-based services could include data intelligence and analytics, forecasting and blockchain consultancy.
Digital transformation: Where's my ROI? – addresses the challenge of justifying expenditure for critical digital transformation, starting with transforming non-digital or manual processes to digital processes. Get practical advice in this session on how to actively plan and monitor digital investments and how to develop and link both quantitative and qualitative ROI to the practice's overall strategy and goals.
Practice Leadership – Tone from the top and exemplary practice leadership are the keys to audit quality and SMP resilience. Expert speaker will share insights on how to develop an effective leadership style and skills to engage and motivate your people, while steering necessary changes for a sustainable practice.
DAY 2 – COMPLIANCE
Tax Investigations and Tax Audit during the Covid-19 Pandemic – The imposition of travel restrictions to contain Covid-19 infections may delay finalisation of tax investigations and tax audit cases. To manage these restrictions, tax practitioners are expecting assurance from the Tax Authority with regards to new approaches in carrying out audits/investigations during the Covid-19 pandemic. This session explains the precautionary steps that SMPs should adopt in preparation of tax returns to minimise the risk of tax audits/investigations, especially in dealing with the changes in legislations and new policies arising from the tax measures introduced by the Government in mitigating Covid-19 impacts.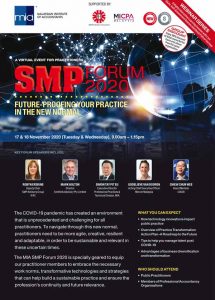 Compliance of professional firms with Bank Negara Malaysia's (BNM) updated anti-money laundering legislation – On 31 Dec 2019, BNM issued a new guideline on Anti-Money Laundering, Countering Financing of Terrorist (AML/CFT) and Targeted Financial Sanctions for Designated Non-Financials Businesses and Professions (DNFBPs) and Non-Bank Financial Institutions (NBFIs), which took effect on 1 Jan 2020.
This session explains the obligations of DNFBPs1 (or professional firms), in their obligations as reporting institutions, with respect to the new guideline and requirements imposed under the Anti-Money Laundering, Anti-Terrorism Financing and Proceeds of Unlawful Activities Act 2001 (AMLA).
Preparation for an Audit in View of the Pandemic – The consequences of Covid-19 mean that preparing audit and financial statements will be more complex and challenging. This session will discuss the precautionary measures and actions that should be taken into consideration in preparing for an audit in pandemic times.
International Standard on Quality Management (ISQM) – Updates on the ISQM 1 (Revised ISQC 1), new ISQM 2 and ISA 220 (Revised) that were approved for exposure by the IAASB in December 2018, and their potential impacts on SMPs, practice risk management and audit quality.
Don't miss the SMP Forum 2020 for ideas on how to reinvent your practice for the unpredictable new normal. Enjoy 10% discount on total course fee for 3 pax and above from the same organisation.