By Ling Hsern Wei
The pace of change that we are experiencing is great, owing to the rapid developments in technology which show no signs of slowing down. A report by the World Economic Forum published last year found that COVID-19 has in fact accelerated the adoption of increased automation, resulting in a division of labour between humans and machines. It predicts that while 85 million jobs will be displaced, 97 million new ones will be created by 2025, many of which will be technology-related. Meanwhile, in Malaysia, 57% of respondents believe it is likely their job will be made obsolete in the next five years because of technological advancements.
Because tech innovations are continuously evolving, the pace at which we develop skills will need to speed up too. That is arguably the root of the belief that the half-life of technical skills learnt today is five years. In short, much of what you learnt 10 years ago may already now be obsolete, and half of what you learnt five years ago may no longer be relevant.
As not everyone will possess skills on an equal level, it is critical for you to first assess where you are at before undertaking any upskilling or reskilling.
The purpose of assessments in upskilling and reskilling
In our 'Digital resilience in a new world' report, almost half of our respondents believed individuals are responsible for upskilling themselves. And this is encouraging, because nothing accelerates learning and personal growth faster than self-motivation.
Self-learning can also supplement work-mandated training programmes. For example, reading up on emerging technologies while receiving workplace training on how to use an automated software. Think about how such a pairing could reinforce learning.
However, with so much to learn and so little time, learning has to be strategic. And that is where assessments come in, because you need to know what you are fixing or improving, whether individually or as part of an organisation.
During the launch of our digital upskilling initiative two years ago, we got our people to first complete a learning agility self-assessment to get insights into their willingness to adopt new ways of thinking and their openness to acquiring new skills. It also provided an opportunity for the participants to reflect, and to gain some self-awareness of how agile they were in terms of learning. We then asked them to nominate five colleagues they work closely with to complete the same assessment.
As a result, participants were able to compare their personal views of their own learning agility to the perceptions formed by their colleagues. They also learnt about what particular mindsets were holding them back, after which, we were able to suggest some steps that they could take to remove the mental barriers that hindered learning.
Improving digital acumen with PwC's Digital Fitness App
The same principles apply to the development of digital skills – assess first before diving into the learning.
That is where our Digital Fitness App (DFA) comes in. Before starting, you are asked questions about your digital fitness across four areas: Skills, mindset, behaviour, and relationships. Your answers are then given a score, and tallied up. The total score becomes the starting point in your DFA journey, where the goal is to improve your scores over time.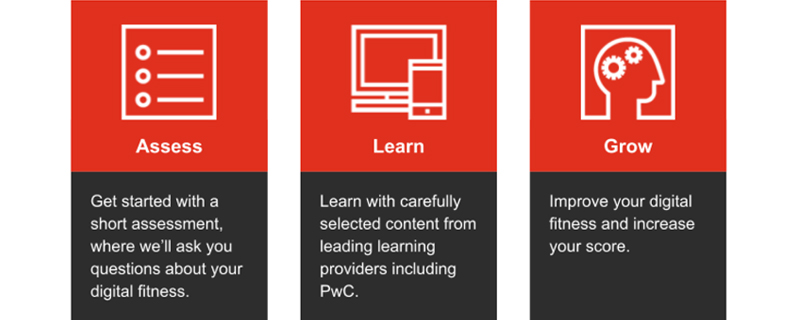 How you do this is by going through short, easily digestible content (e.g. articles, videos, podcasts from leading learning providers including PwC) that tie in with the four focus areas above. This rich library of resources enables you to improve your digital awareness and knowledge. The app also allows you to learn at your own pace, so you do not feel overwhelmed, encouraging consistency in learning.
To support our communities in these uncertain times, we have made DFA free to the public since last year. To start, head to the Apple App Store or Google Play. Then search for 'Digital Fitness Assessment' and use the code 'LRNALL' for the free download.
Sharing DFA with the Malaysian Institute of Accountants (MIA)
The MIA rolled out their Digital Technology Blueprint in 2018, to act as a guide for the accountancy profession in Malaysia to respond appropriately to the rise of digital technology.
One of the initiatives outlined in the implementation plan of the Blueprint is for members to have a self-assessment tool that would allow them to assess where they are at in terms of technology adoption, and to guide them in developing their digital competence. After extensive research, MIA identified PwC's DFA as a tool suitable for this purpose and issued a circular to the MIA members on 3 March 2021, encouraging the use of PwC's DFA for their members to assess and enhance their personal digital competency.
Developing new skills is a continuous journey
In summary, if you are looking to build your digital skills, assessments are key because they tell you where your blindspots are. After you have established your starting point, you will have to ensure your efforts remain consistent. Because with technology evolving day by day, there will always be more to learn.
Ling Hsern Wei is the Head of PwC's Academy, PwC Malaysia