By Zulaikha Nurain
A profession cannot thrive without its people.
Every profession, including accountancy, requires a strong "human factor" to create value for businesses. Even as digital technology and advancements continue to change the way businesses are run and automation transforms the workplace, it is the people that ensure whether these operations thrive or fail. In the same vein, as financial advisors to the organisation, accountants are key in ensuring that organisations are run ethically and formulate better business decisions by using their professional judgment, technical knowledge and experience.
In a recent webinar session on Embracing a People-Centred Profession, MIA CEO Dr Nurmazilah Dato' Mahzan, who is a proponent of prioritising engagement and upskilling within a conducive work environment to sustain productivity in the workplace, said that people are the nexus of an organisation. "Everyone is unique, and each person has different characteristics. The question is, how do we bring this uniqueness together when we design and develop operations and policies for our organisation?" she added.  "At MIA, we talk about integrity, accountability and trust, as the profession itself focusses on sustainability and good governance. This is the ecosystem we are in, and the people we have within this ecosystem must reflect integrity, accountability and trust."
Firms, Professional Accountancy Organisations (PAOs), standard-setting committees, companies, regulators, and professional accountants must also recognise that the accountancy profession's continued relevance is reliant on people.
Accountants, like other human talents within an organisation, provide critical thinking and judgment that require perspectives and nuances that machines do not have the capacity to provide. An organisation that is people-centric and provides an environment for their human talents to thrive is more likely to remain adaptable, agile, and sustainable in this post-pandemic business environment.
In tandem with embracing the uniqueness of individuals in an organisation is inculcating the ability for them to adapt and develop competencies that are needed to meet evolving demands. "In this case, accountants can no longer limit their thinking to what they are expected to do," said Scott Hanson, Director of Public Policy & Regulation at the International Federation of Accountants (IFAC), during his presentation. "Much of what will change is the integration of people, processes and technology and this will result in newly defined accounting careers. Staying agile is key to managing this continuous transition."
The importance of embracing a people-centric organisation was further discussed during a panel session featuring a stellar line-up of speakers including Scott Hanson, VS Ravi, CEO and Founder of Invictus Leader Pte Ltd, and Ling Hsern Wei, Head of PwC's Academy at PwC Malaysia, and moderated by Dr Nurmazilah.
The panellists agreed that organisations should empower their people so that they can excel in their work, and this tone needs to be set from the top. This can include the following: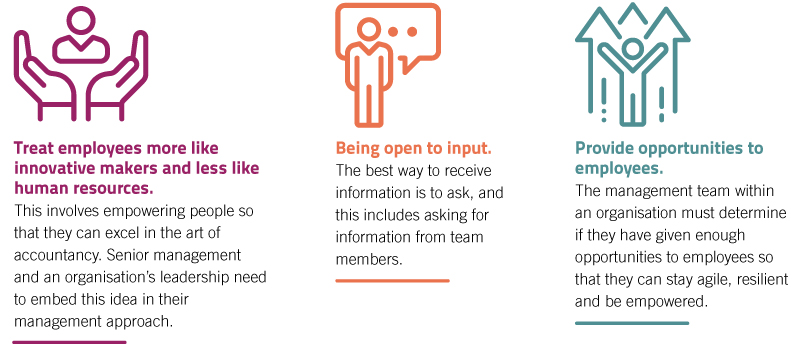 During the panel session, Dr Nurmazilah also asked, "Are we investing more in the technologies needed to operate an organisation, or accountancy body, and if so, are we investing the same amount in people?"
This question is particularly important especially during this pandemic, and the panellists concluded that if an organisation is more tech prone, it also needs to invest in its people. As tools, technologies still need to be manned and used by the people, and only with this combined effort can they spur innovation and change within an organisation.
Equally important is the accountants' ability to learn and adapt. Accountants need to upgrade themselves and understand new technologies, or risk being replaced. The panel concluded that the onus is on individual accountants to navigate this evolving landscape and rise up the value chain to become more of a judgment provider and decision maker in this people-centred profession. PAOs and organisations like MIA are their partners in that effort, advocating the importance of why employees should be reskilled to remain current and relevant, and how taking personal responsibility for lifelong learning and career development will ensure they remain adaptable and agile in the accountancy profession.
Zulaikha Nurain is Manager of the Strategic Communication & Branding, Malaysian Institute of Accountants