Joining MIA as the new CEO on 28 March 2022, Dr. Wan Ahmad Rudirman Wan Razak said in a recent interview with eAT that he is honoured to have the privilege of leading the Institute on the next phase of its journey, as it navigates a high-potential yet complex and volatile landscape.
"This is a truly exciting time to be part of MIA as the profession enjoys tremendous prospects for advancement," he said. Two key developments that augur well for the profession are the increasing pressure for business to adopt environment, social and governance (ESG) matters for better sustainability as well as growing public expectations for strong enforcement, good governance and protection of the public interest.
In response, said Dr. Wan, "MIA is strategically advocating for accountants to lead the ESG agenda in their organisations and to spearhead the adoption of sustainability reporting and climate change disclosure for improved decision-making and outcomes that support sustainable nation building."
At the same time, "MIA will continue to build on its strong foundations to prioritise and strengthen values-based regulatory, enforcement and development activities, in order to drive good governance in the public interest," he added.
To improve MIA's efficiency and effectiveness in discharging its mandate of regulation and development as empowered under the Accountants Act 1967, it is critical to focus on core areas and priorities, said Dr. Wan. "Key priorities for the Institute are to strengthen regulation and talent competencies and capacity-building to future-proof the profession and further benefit the more than 37,500 MIA members."
"To strengthen regulation, MIA will continue to engage with the Ministry of Finance on the repeal of the Accountants Act and its operationalisation to strengthen MIA's powers as the regulator of the profession," he stated. MIA is also considering reviewing the Practice Review process and rules to improve compliance and the quality of audit. Dr. Wan emphasised that, "MIA will also continue to clamp down on members linked with bogus accountants to eradicate unauthorised public practice services in the market, for good governance and the public interest."
Equally essential is to enhance the Institute's internal talent retention and competency building to effectively regulate and develop the profession. "As MIA serves as the reference point for anything related to the accountancy sector, the Institute must be a centre of excellence and expertise in terms of regulation and development, looking at new standards and providing guidance on professional practices," he stressed.
Strategic collaboration with members and stakeholders has been beneficial for MIA in boosting competency and talent. "MIA is fortunate to have our members who contribute their knowledge and expertise through various committees, providing guidance and sharing their knowledge for the profession's advancement." Furthermore, MIA's robust engagement with global bodies such as IFAC, the International Accounting Standards Board (IASB), the International Auditing and Assurance Standards Board (IAASB), the new International Sustainability Standards Board (ISSB) and AFA among others supports knowledge sharing and MIA's relevance to the profession. MIA's strategic collaboration with its fellow regulators have also enabled the Institute to strengthen its regulation and enforcement activities, in the interests of the public and good governance. Dr. Wan also commended the efforts of MIA's capable management team who are "on top of global and local developments in the market that relate to the profession, such as governance, sustainability, technology and digital economy."
Last but not least, Dr. Wan thanked MIA members for their continuing commitment and support of the Institute as it strives to implement its nation building purpose in the public interest. "With the support and collaboration of our diverse stakeholders, I am confident that MIA will be able to achieve its vision of future-proofing the profession in the interest of the public and the nation," he concluded.
---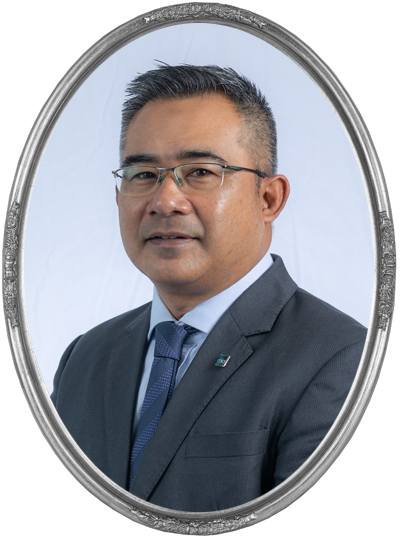 Dr. Wan Ahmad Rudirman Wan Razak joined MIA as the new CEO on 28 March 2022. His extensive experience in corporate leadership, corporate strategy and restructuring, and corporate finance equips him well to lead MIA's continuing pursuit of enterprise transformation and sustainability for the future relevance of the profession.
Before joining MIA, Dr. Wan was the former President/Group Chief Executive Officer of Terengganu Incorporated Sdn Bhd (Terengganu Inc), the strategic investment arm of the State Government of Terengganu. He also served on the boards and senior management teams of public listed companies, Selia Group and KUB Berhad. Earlier in his career at Malaysia Airports Holdings Berhad, Dr. Wan had been handpicked after a rigorous selection process to lead the New Corporate Strategy division as the Head of Corporate Strategy reporting to the Managing Director's Office, responsible for developing and executing a 5-year Business Plan and Key Performance Indicators for senior management. His interest and accumulated experiences in business also spurred him to earn an MBA and a DBA in strategy and leadership to boost his competencies and credentials.
Since joining MIA, Dr. Wan has been appointed as the MIA representative on the Councils of the International Federation of Accountants (IFAC) and the ASEAN Federation of Accountants (AFA), a Member of the MIA-MQA Joint Technical Committee (JTC) and Member of the MAREF Board of Trustees. His participation will support the Institute's ongoing engagement and strategic collaboration with its diverse stakeholders.
Dr. Wan strongly endorses talent development and inclusion to boost organisational performance. He is an advocate of the 30% Club – a global campaign led by Chairs and CEOs to increase gender diversity at board and senior management levels.
In his leisure time, Dr. Wan enjoys golf and adventure biking.