Submissions are cordially invited for the National Annual Corporate Report Awards 2023 (NACRA 2023) which is open to all companies incorporated or registered in Malaysia as well as the public sector and other organisations established in Malaysia.
All submissions must be received by Wednesday, 31 May 2023. Only annual reports with 2022 financial year end are eligible for entry to NACRA 2023.
NACRA 2023 which is a joint endeavour of Bursa Malaysia, Malaysian Institute of Accountants (MIA) and The Malaysian Institute of Certified Public Accountants (MICPA) was launched on 16 March 2023 with the theme "Towards Accountability & Excellence". NACRA 2023 continues a long tradition of excellence, since it was established in 1990 or 33 years ago with the main objective of recognising companies' corporate reporting excellence on a yearly basis. Over the years, NACRA has become the benchmark stakeholders associate with fair, transparent and informative corporate reporting, which has always been the underlying objective of its three organising bodies – Bursa Malaysia Berhad, Malaysian Institute of Accountants (MIA) and The Malaysian Institute of Certified Public Accountants (MICPA).
Many new value-adding elements have been incorporated in the annual report over the years, and hence in 2020, a brand-new NACRA framework was announced in response to a vastly transformed corporate and regulatory landscape as well as increasing investor demands for both financial and non-financial information.
To accord recognition to many more leading organisations and align with global reporting frameworks and best practices, a new awards structure was introduced, where all organisations compete for Excellence Awards according to market capitalisation for listed companies, with a separate category for non-listed organisations.
NACRA 2023 comprises four categories of awards – the Excellence Awards, Best Sustainability Reporting, Best Annual Report in Bahasa Malaysia and Best Designed Annual Report. Each category of the Excellence Awards (except for the Non-listed Organisations) will have a Platinum winner, up to three Gold winners and up to three Silver winners provided the minimum assessment marks are met. The most outstanding Annual Report for the year will receive the Platinum Excellence Award. This Award will be presented to the organisation which displays the highest quality corporate reporting in its annual or integrated report.
For Special Awards, i.e. "Best Sustainability Reporting Award", "Best Annual Report in Bahasa Malaysia" and "Best Designed Annual Report", each category will have a Platinum, Gold and Silver award. All participating organisations are eligible for the Special Awards.
This year, a physical awards presentation dinner will be held on November 30th where the winners will be announced.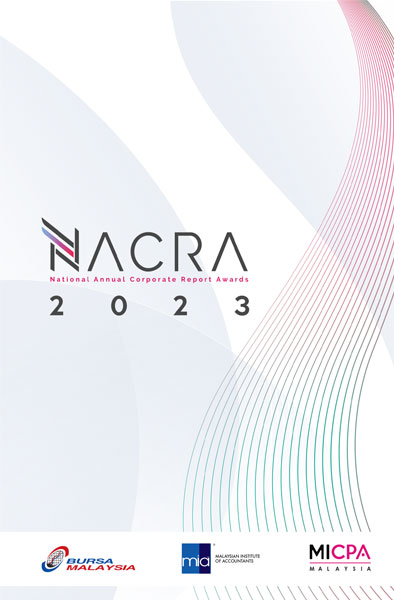 In his remarks, Mr Tang Seng Choon, NACRA's Organising Committee Chairman, encouraged companies to participate and strengthen their reporting quality. "Participating in NACRA will inspire organisations to enhance their corporate reporting in order to improve the information made available to investors, while embedding a culture of reporting excellence and accountability for long-term sustainability. We hope the healthy competition NACRA provides will motivate and promote innovation, excellence and continuous improvement in corporate reporting."
Mr Ong Chee Wai, Chairperson of NACRA's Adjudication Committee extolled the relevance of NACRA and benefits of participation in his speech. "It is undeniable that reporting on both financial and non-financial measures have been considered the most critical reporting tool for the company's performance and strategic integration in order to meet the increasing scrutiny of investors and other stakeholders' for better sustainability and a higher level of corporate governance and transparency."
"The NACRA Framework is adaptive with the ever-changing landscape of the markets. Being a NACRA winner would mean added prestige and acknowledgment by peers and competitors locally and internationally. This is definitely a significant milestone for participating organisations," added Mr Ong.
For more information, click here.