By Mohd Faiz Othman
Fraud has tremendous and debilitating consequences, and the Malaysian government is rightly cracking down on financial fraud in its efforts to implement systemic reform and heighten good governance. According to PwC's Global Economic Crime and Fraud Survey 2020 – Malaysia Report, it was reported that 24% of the respondent suffers direct losses of USD1 million or more from financial fraud.
To help curb fraud, recent years have seen the spawning of new legislation, new auditing standards, new oversight of the accounting profession, and greater penalties for those who conspire to commit financial fraud.
As a regulatory body of the accountancy profession in Malaysia serving more than 38,000 members along with various partners and stakeholders, the Malaysian Institute of Accountants (MIA) is strongly advocating to strengthen the fight against financial fraud and protect individuals, businesses, and society in support of good governance and sustainability. Key to this is equipping professional accountants with the latest knowledge and tools to combat fraud and financial crimes effectively.
As such, MIA will be organising the Financial Fraud & Forensics Conference 2023 on 8 May 2023 at Pullman Kuala Lumpur Bangsar from 9.00 a.m. – 5.00 p.m.
The Financial Fraud and Forensics Conference 2023 with the theme "Fighting Fraud at Every Step in Your Organisation"will feature experts from the financial industries to discuss and address the latest trends, issues, and challenges related to financial fraud and forensics. Delegates can expect to be updated on techniques and tips for:
Detecting fraudulent Financial Reporting – through sharing of a case study that will convey effective methods to detect red flags, misstatements, and potential fraud in published financial statements.
Customising comprehensive strategy with effective systems, controls, and risk management in your organisation which adequately comply to regulatory requirements.
Establishing clear policies and procedures for collecting, verifying, and reporting ESG data for promoting transparency, accountability, and sustainability.
Ensuring your organisation has appropriate safeguards in place to prevent, detect, and respond to instances of fraud and corruption by using the three lines of defence model.
The Conference will also feature Panel Discussions and Knowledge Sharing by reputable speakers as follows:
Panel Discussions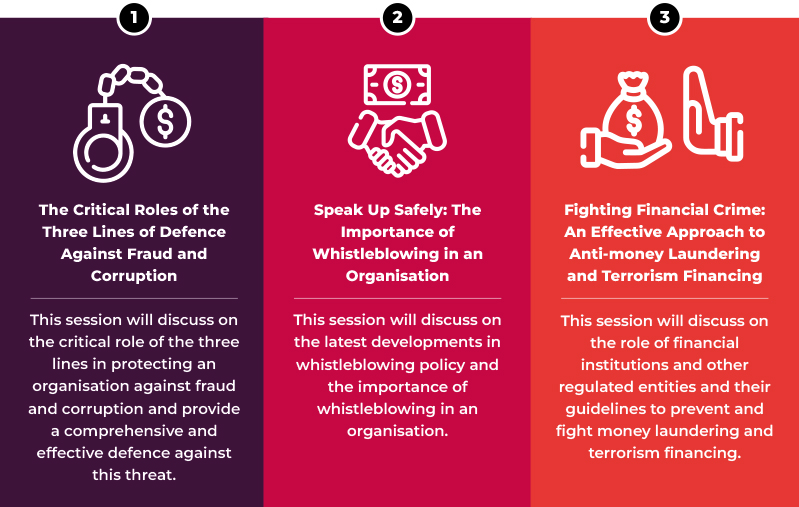 Knowledge Sharing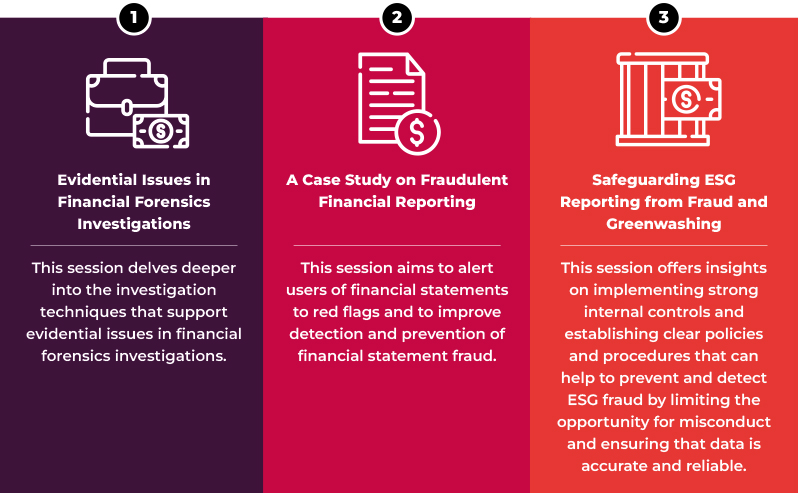 In addition to the latest industry developments, delegates will also learn new skills and techniques, and build their professional networks. Ultimately, this will help in strengthening competency and collaboration in the fight against financial fraud and better protect individuals, businesses, and society.
---
For more information on the Financial Fraud & Forensics Conference 2023, please click here.