The business landscape today is becoming vastly more uncertain, volatile and complex. As such, audit committee members face increased challenges in discharging their obligations of oversight and good governance, while ensuring that their organisations are good corporate citizens.
The Audit Committee Conference 2023 jointly organised by the MIA and the Institute of Internal Auditors Malaysia (IIA Malaysia) aims to ensure that audit committees are agile, adaptable and well prepared to manage organisational risks and strengthen business continuity and resilience.
The Conference which will be held on 14 September 2023 (Thursday), from 9.00am – 5.00pm at the Connexion Conference & Event Centre @ Nexus Bangsar South, Kuala Lumpur will focus on the following highlights for the benefit of delegates:
Navigating Geopolitical Uncertainty: Mitigating Risks and Building Resilience in an Unpredictable Global Environment
Discusses the challenges and opportunities emerging from geopolitical uncertainty and shifts in foreign and domestic policies that should be on the radar of audit committees.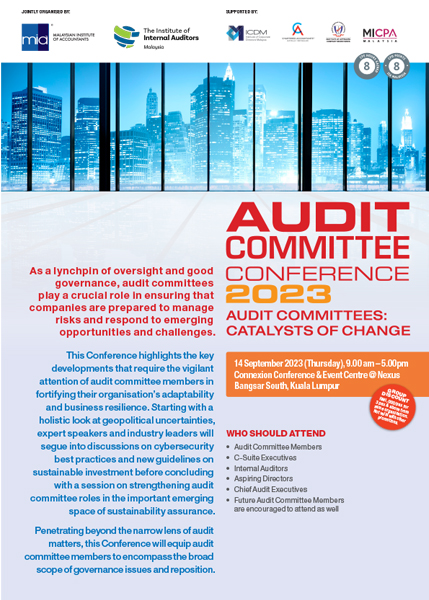 The Silent "T" in ESG: Role of Tax in ESG-Driven, Digitalised, and Agile Supply Chains
Focuses on the vital role of tax policies and procedures in building agile, resilient and responsible supply chains. Gain practical insights into the evolving role of the Audit Committee in general and the Chief Financial Officer (CFO) in particular, in managing tax technicalities and reputational risks affecting supply chain matters, amid enhanced public filing and disclosure requirements.
Implications of Malaysia's Updated Sustainable Investment Guidelines for the Audit Committee
Malaysia recently updated its Guidelines on Sustainable and Responsible Investment Funds, which have important implications for the audit committee. Explore ongoing challenges in responsible investment, including the needs for common standards on disclosure and measurement which the audit committee can use to enhance oversight and governance of sustainable investment funds.
Readying Audit Committees for Sustainability Assurance
Given their expertise and experience, audit committees will play a key role in the adoption of sustainability assurance, which is becoming a priority as investors seek credible ESG information and reports amidst increased greenwashing risks. This session will focus on key areas that audit committees will find useful in improving sustainability assurance outcomes, namely, strategies to enhance oversight and governance, emerging sustainability risks, and effective engagement with auditors in this dynamic new space.
For more information on the Audit Committee Conference 2023, please visit here.