By Majella Gomes
As technology becomes more pervasive, how can it be harnessed to improve accountancy education and nurture future accountants? With the theme of Nurturing Future Accountants, the National Accounting Educators' Convention (NAEC) 2018 produced the following insights:
Crystal ball gazing. Technology changes so fast that accountancy educators don't just need to keep up; they need to be prescient in assessing technologies and their impacts on the profession. They have to ask themselves what tech will be like five years in the future, and what skills the profession will require. In short, they need foresight as well as the ability to crunch the big picture. "We take a few years to produce talent but the business environment changes so fast," commented Dr.Nurmazilah Dato' Mahzan, CEO, MIA. "In education, you cannot work with hindsight. (To ensure content is relevant), you need to be targeted and forward looking."
Future Skills. What skills will accounting professionals of the future need? With a nod to technology, future accountants will need basic IT and software skills to enhance their productivity and decision-making, layered over a solid foundation of accounting knowledge. Imperative too is the cultivation of critical thinking, analytical skills, and the ability to strategise and solve problems, rising above the machines carrying out routine mind-numbing tasks. It is also essential to communicate and articulate clearly and concisely; an above-average command of English is vital to spur them to the next level, regionally and globally.
For this to happen, a mindset change has to develop in parallel with the upgrading of skills, among both students and educators. Accountancy and tech skills will have to converge for the profession to move forward, with academicians and IT coaches working hand-in-hand to develop the best accountancy learning systems. Ethics, the foundation of the profession, should be built into the systems from the outset. Lessons can be learnt from the universities that are already retraining their lecturers in digital skills while adapting software for greater efficiency.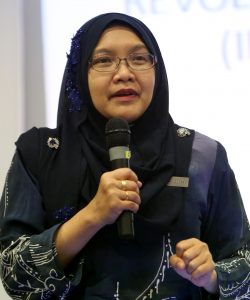 Broaden Your Perspectives. Institutions may want to seriously consider inviting practitioners into classrooms to get different perspectives on the key changes happening in the profession and business. It is widely acknowledged that schools usually have to play catch-up. "The external environment has changed, so what you put into your programme won't work anymore," stated Associate Professor  Dr. Sagaya Amalathas, Programme Director, Taylor's University. "If you cannot catch up, what you are teaching now will no longer be relevant." For example, employers today want professionals who can understand and audit unstructured data like video feeds and mobile data; students will need to learn how to recognise and analyse different kinds of data.
Renaissance Minds. The classroom may soon become a platform where teachers teach less but learn more – from students as well as "tech" people. Subjects are beginning to converge, and students will find themselves doing many things that seem unrelated to accounting. Knowledge bases therefore have to include areas which hitherto have not fallen within the purview of traditional accounting practices such as analytics, interpretation of inferential statistics and some aspects coding from a programming perspective. This is necessary, said Professor Dr. Siva Muthaly, Dean, Faculty of Business & Management, Asia Pacific University of Technology & Innovation, because "if you don't go into areas which are not accounting-related, you would be rather myopic in embracing technology ("Tech-Accounting")".
Independent Learning. Students will have to get used to finding information for themselves, as self-learning and blended learning gain traction, and traditional spoonfeeding methods die out. Education itself will have to become more flexible, and methods of delivery refashioned. "People don't go to the library now," said Professor Dr. Noor Azizi Ismail, the immediate past Deputy Director General of Higher Education (Public Universities). "They study on their phones."
With the myriad distractions online and offline, lecturers are constantly looking for ways of engaging students more effectively, although they agree that generally, students the world over do respond to one method: being fed information in small amounts. University systems, too, need to be properly integrated with technology to be able to offer students the kind of learning at the levels they require. As the humans at the heart of the educational system, accounting educators should leverage on the technologies available, optimise and blend them into their current methods to achieve the best outcomes for their students.