The Malaysian Accountancy Research and Education Foundation (MAREF) launched the Priority Research Report 1.0 project at the recent MFRS Conference 2019.
The Priority Research Project was first launched in 2017, open to interested academicians and researchers in applied accountancy. Altogether, 41 proposals were received across the 12 priority topics identified, out of which the best were selected.
The selected teams commenced their research throughout 2017 and early 2018, before presenting their research approach and methodology to a diverse audience, including the Board of Trustees, accounting firms, and research institutions in March 2018. In total, the teams successfully produced the following four research reports: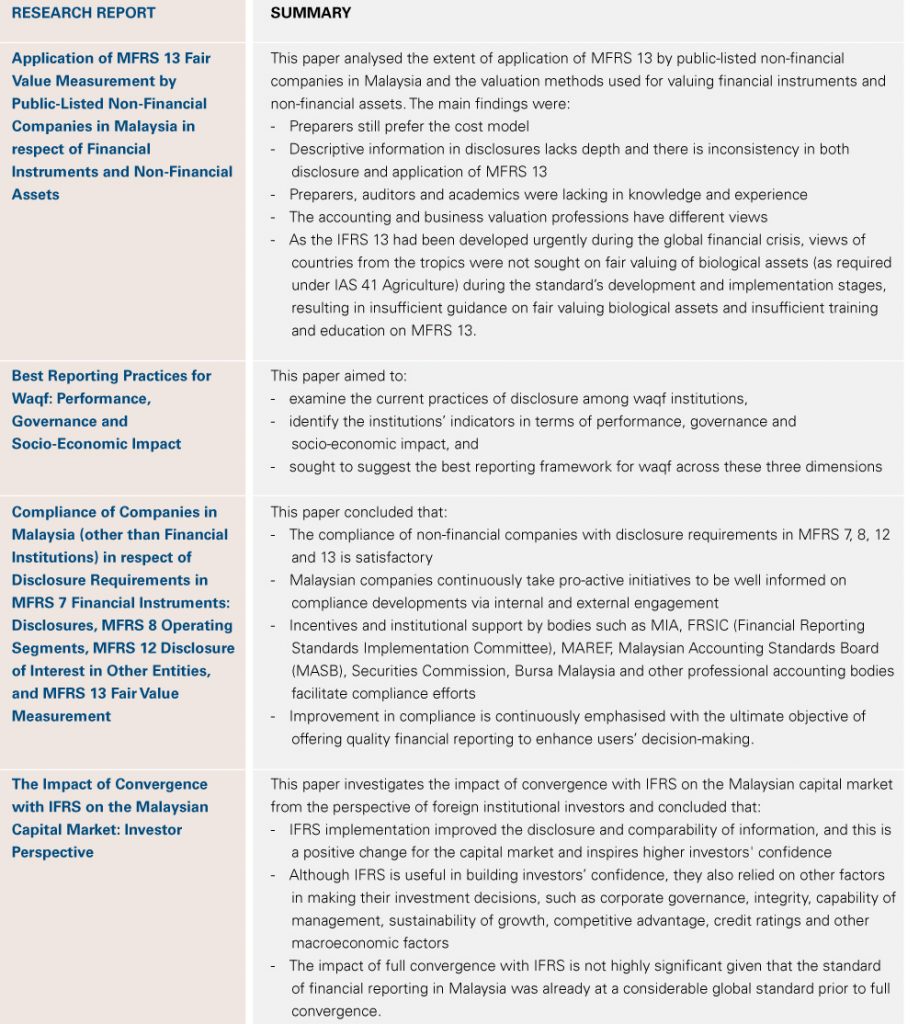 Stimulus for Accountancy Knowledge and Expertise
These research papers are key to building the knowledge and expertise bases for accountancy in the local context, said MAREF Chairman YBhg Tan Sri Datuk Dr.Abdul Samad Haji Alias during the launch. MAREF is a trust body initiated by the MIA in 1993. One of the key objectives of MAREF is to help develop the accountancy profession in Malaysia, by funding and promoting research. This is aligned with MIA's vision to develop the profession to support nation-building.
Congratulating the researchers on their invaluable work, Tan Sri Samad noted that: "These research projects don't only augment and enrich our existing data and knowledge bases and understanding, but they can help scale Malaysia further up the value chain in areas where the country enjoys an advantage – global Islamic finance and as a model and repository of knowledge on IFRS implementation for emerging economies."
Donate to MAREF to Support Further Research; Donations are Tax Exempt
He emphasised that MAREF will continue to provide funding for significant commercial and market-oriented research that benefits the profession. Building on the success of Priority Research Project 1.0, MAREF together with MIA are proceeding with Priority Research Project 2.0. As of the cut-off date, they had received 46 proposals on the five key research topics identified. MAREF and MIA are now in the midst of assessing these proposals with those selected to be announced at a later date.
To support MAREF's mission, Tan Sri Samad exhorted organisations and individuals to contribute financially to MAREF. Currently, MAREF's funding is mainly obtained by means of contributions received from individuals and corporations. As an approved institution under Section 44/(6) Income Tax Act 1967, contributions to MAREF are tax exempted.
Priority Research Report 1.0 are sold at RM10 per report or a bundle price of RM35 for all four reports. Proceeds from the sale of the Priority Research Report 1.0 will be used and contribute to the funding of future research.
For more information on MAREF and the Priority Research Projects, please visit www.maref.org.my or email to [email protected]. The research reports can be purchased via postage by emailing [email protected].