By MIA Small and Medium Practices Department
Read this article to find out more about QAP and the benefits it has for audit firms.
Scope of QAP
Only applicable to audits of financial statements of limited liability companies registered under:

that prepare financial statements in accordance with:

QAP Reviewers
The entire assessment will be conducted by MICPA's appointed QAP reviewers.

The QAP reviewer will be required to sign a reviewer agreement with MICPA, which shall consist of a confidentiality clause and conflict of interest clause.

The QAP reviewer shall not currently be a member of the MIA's Practice Review Department/Committee, MIA Investigation Committee, MIA Disciplinary Committee and MIA Disciplinary Appeal Board.
QAP will assess and evaluate

Whole Firm Assessment
The reviewer will conduct a compliance review of the system of quality control of a member firm that includes policies and procedures that address each of the six elements in ISQC1:

Selection of Audit Engagement
An audit engagement that has been

previously reviewed or has been selected for practice review

cannot be selected.

MICPA has the absolute discretion

to determine whether to accept or reject the selected file.

MICPA can reject any audit engagement selected for QAP

without giving any reasons

.
Duration & Service Charges

QAP Report
At the end of the QAP:
A draft report

containing the QAP Reviewer's findings will be prepared and discussed with the firm/practitioner at the exit meeting.

The firm reviewed will

propose the remedial action plans

based on the findings provided by the QAP Reviewer(s).

No rating given

at the end of the QAP.

Final report

with findings and remedial action plans will be posted/sent to the firm after the exit meeting.

A copy of the final report will be sent to

MIA to monitor

the effectiveness of the QAP.
Process Flow of QAP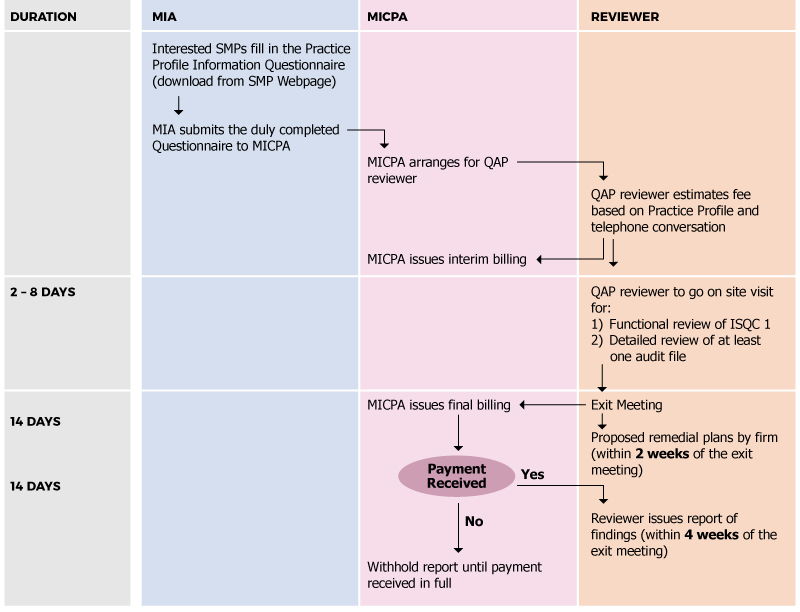 What are the main differences between QAP and Practice Review Programme (PRP)?