By MIA Professional Practices & Technical Team
COVID-19 has helped organisations around the world to achieve in a short period what might have taken years in a non-pandemic world: accelerate their adoption of digital solutions and processes. A McKinsey study has suggested that this is the equivalent of five years of consumer and business digital adoption compressed into months. Beyond dealing with immediate challenges, the pandemic has also made clear to many businesses that digital transformation will be key to sustaining long-term growth in an increasingly volatile operating environment ahead. But, have our Small and Medium Practices (SMPs) caught on?
With vaccination rollouts gaining traction in Malaysia, Malaysians are hopeful that herd immunity could be achieved soon. Thus, as the economy slowly staggers out of the nationwide lockdown or movement control orders, it is apt for practitioners to start charting their course after the pandemic.
Now could be the best time for SMPs to start thinking about their own raison d' étre or purpose of existence. Would they want to revert to pre-pandemic 2019 behaviour or could there be a new path, a new reset for the firms? The problem with getting back to 2019 is that so much has changed since – the era when working from home (WFH) was a novelty, electronic commerce was mainly a B2B model, contactless payment was the limited domain of large corporations, and Bitcoin, to many, was seen as a get-rich-quick scheme for some computer experts.
If moving back in time is not an option, should SMPs then be thinking about moving forward as a strategy?
Take auditing, as an example. It has hardly evolved over the past 20 to 30 years. Audit firms' investment in technology in the past may have been limited to the replication of paperwork and upgrading of record filing. Today however, vast volumes of data, shifts in business models, and increased expectations for a more proactive approach to auditing means that auditors will need to re-examine their approach to work. Whilst it is not the pandemic crisis that triggered the need to evolve, undeniably, it has accelerated these trends.
The ABCD Phenomenon
For many smaller firms, the challenge will be about having a clear sense of direction of where the starting lines are because many of these changes are seismic in nature. On technology alone, the audit profession is faced with the "ABCD Phenomenon" as described below: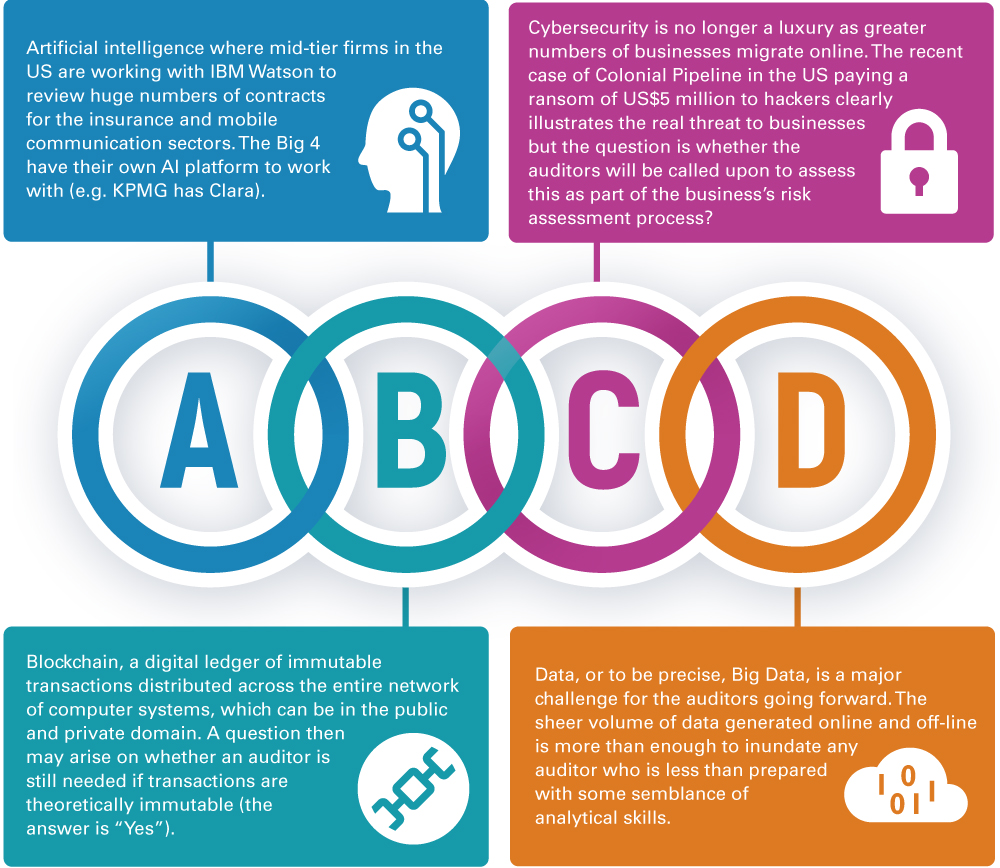 When pivoting to technology, what would then be the best area for an SMP to invest in? Among the options available, data analytics is a clear choice. In dealing with data, auditors are faced with the speed at which data is being generated nowadays (mostly in real time) and its sheer volume. Added to this, a lot of the transaction trails are now in electronic form or digital images.
Data Analytics – The Starting Point
There are three good reasons for SMPs to start here:
It enables firms to understand the data and interpret its application to the clients' business and operations, helping to drive both efficiency gains and audit quality;
Firms can use the data to create industry benchmarks and dashboards, fortifying their industry/ client knowledge and eventually, building up their specialised skillsets; and
Firms can offer tailored services to better service clients in the long-term with minimal risk of running foul of the Institute's By-Laws and Code of Ethics.
Fortunately, most audit software in the market is already equipped with data analytics functionalities. In other cases, software houses and other service providers offer data conversion services (known as data ingestion) that assist clients to digitalise their database, thus enabling analytics software to be deployed across all clients, even for those that still maintain paper records or a hybrid of paper and non-integrated IT platforms. While this type of demand is still a novelty in Malaysia, such analytics can offer compelling insights into the clients' operations, allowing auditors to exercise more than a healthy dose of professional judgement and professional skepticism when challenging management's possible biases or applying the ratio analysis test. For those looking to invest in audit software with data analytics capability, a useful article to read is the recent publication by MIA – "Guidance on Software & Software Vendor Selection" and its companion manual, the "Software Vendor Database".
Other Technology Tools to Consider
While SMPs (at least in Malaysia) may not be in a hurry (or still do not feel the urge) to invest in AI in the near future, small manageable steps with a fairly visible return on investment can still be taken by progressive SMPs starting on their technology journey, aside from investing in data analytics capability as mentioned above. Among others, they are:
Electronic Bank Confirmation (eConfirm.my)
eConfirm.my, an electronic bank confirmation platform, was developed as part of the Institute's technology initiatives in addressing several issues and risks pertaining to the manual bank confirmation requests faced by the audit firms. Launched in June 2020, eConfirm.my replaces the manual paper-based confirmation process with several significant benefits for auditors, audit clients, banks and the greater economy: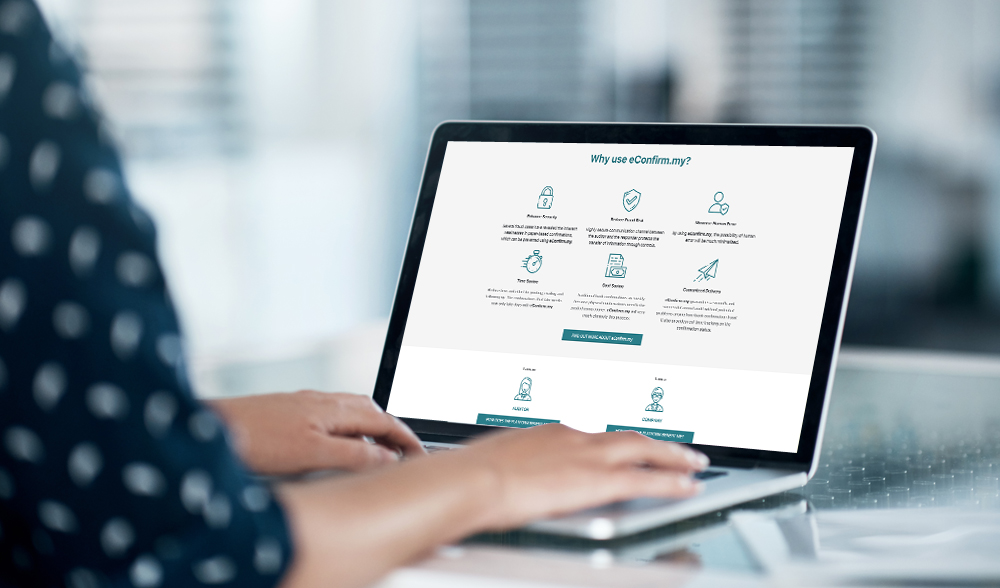 Provides a secure process with the necessary audit trails to obtain the required bank confirmations.
Achieves greater efficiency and cost savings at the firm level.
Eliminates duplications and loss of confirmations, and expedites confirmation replies to the auditors.
Mitigates the risk of confidential information being wrongly sent to other parties through postal services.
Expedites confirmation and reduces delays in clearance of audited financial statements which benefits the overall business environment.
Enhances compliance with approved standards on auditing, financial reporting deadlines and practice review requirements.
Reduces the risk of fraud which may potentially go undetected by auditors whilst protecting the interest of stakeholders that rely on audited financial statements. The recent Wirecard scandal is a good cautionary example.
Supports protocols for health and wellness in the COVID-19 new normal, as the EBC platform minimises human contact and promotes physical distancing through a technology platform.
As of early June 2021, 730 audit firms and 20 banks have signed up with eConfirm.my. Further information pertaining to this platform is available at www.econfirm.my .

Client or Practice Management Portal (also known as Project Management Portal)
File sharing and remote review of audit files have been in vogue in many parts of the world but in Malaysia there is still an adoption gap. Many of these could be stand-alone systems or usually, are embedded as part of the audit software, depending on vendors. Apart from project management functionalities such as "deadline" and/or budget or time-cost management, it is a useful tool to track staff scheduling and the status of documents requested from clients but still pending as the audit progresses. In some instances, the functionalities can be further programmed to send out standard reminders on a timely basis while others can be used to generate clients' engagement letters, management's representations, and even billings. A mid-tier firm found the roll-over of the audit file for the next audit cycle to be so much more systematic and efficient with the use of such a portal. In the era of WFH, such portals are powerful tools for audit managers in managing their audit teams and clients from anywhere, and in a real time environment. Most of these systems are highly secure, allowing clients to transmit sensitive information at ease – a much needed facility during the current pandemic.
SMPs can also use certain functionalities in these management portals to evaluate the adequacy of resources at the planning stage as required by the new quality management standards (the ISQM 1) that will be coming into effect by the end of 2022.
Conclusion
While investing in technology will be the new pivot for progressive SMPs post-pandemic, one must always remember that technology is only an enabler. It is still the people, the firms' human capital, that represent the most critical element in delivering high-quality audits and in protecting the public interest. The collective skills and competencies of a diverse audit team will ultimately support the greater judgement and decision-making capabilities required for an audit in a complex and constantly changing environment. Thus, these firms are also constantly looking for audit staff equipped with a variety of competencies due to the increased complexities of doing business and the ever-present business risks.
In the meantime, SMPs will need to start assembling the right team and equipping them with  proper technology-based tools post-pandemic if they are serious about "coming back better".