Backed by their financial and strategic expertise, CFOs are key leaders who will help drive their organisation's transformation and performance in the post-pandemic and digital economy.
Across industries, CFOs are now shouldering expanded duties beyond finance function stewardship. Expectations of CFOs now include steering transformation efforts – both within finance and the overall organisation – and leading the enterprise ESG agenda in order to boost organisational sustainability and growth.
How can CFOs fulfil these intensifying expectations?
One, CFOs must focus on how the finance function can transform to best serve the business by leveraging on technology, process evolution, organisational restructuring, and talent management. At the same time, CFOs must look into enterprise transformation to enhance the organisation's performance, for example through embracing purpose-driven leadership values and advocating digitalisation.
Two, CFOs must be adept in managing data and the proliferation of information on financials as well as ESG to set the most appropriate course for the enterprise. Both quantitative and qualitative data must be strategically harnessed and utilised to drive more informed decisions that create better outcomes and value for customers, employees, investors, society and other stakeholders.
Backed by our specialised expertise in the finance and accounting domain, the Malaysian Institute of Accountants (MIA) has designed this CFO Conference 2021 which will be held virtually on 8 December 2021, especially for finance leaders aspiring to evolve into Chief Value Officers and sustainability leaders in the post-pandemic economy. Below are the highlights of this Conference, with a focus on enterprise, finance function, data analytics and ESG transformation, specially designed to future-proof CFOs: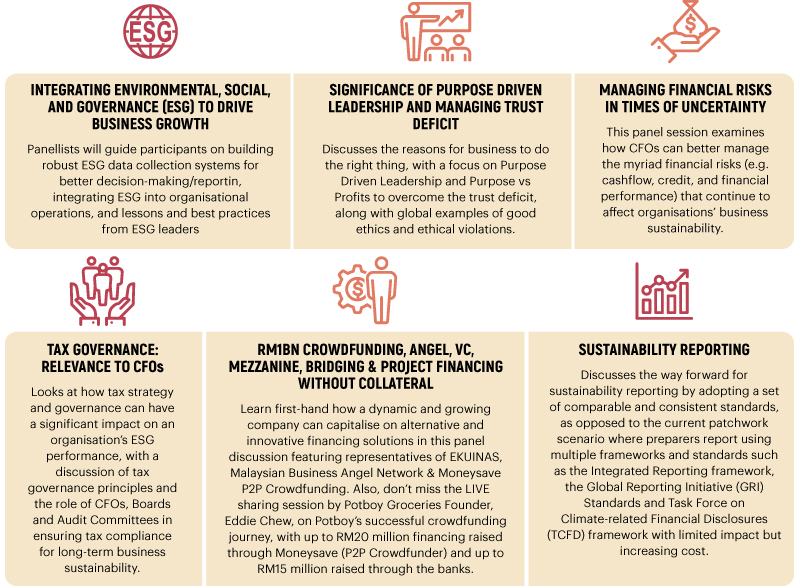 One-of-a-kind in the industry, this Conference is tailor-made for CFOs seeking success in the forefront of business. To learn more or register for this Conference, please click here.