The business conversation today is increasingly dominated by climate and environmental, social and governance (ESG) matters, and rightly so as sustainability risks have been identified as the top risks to business.
In early 2022, the World Economic Forum's latest Global Risk Report 2022 announced that climate inaction, extreme weather and biodiversity loss pose the top three global risks by severity over the next ten years. And in April 2022, the UN released the latest findings of the Intergovernmental Panel on Climate Change (IPCC) with IPCC scientists arguing that it's 'now or never' to limit global warming to 1.5 degrees.
In his reaction to the IPCC report, UN Secretary- General António Guterres warned that unless governments everywhere reassess their energy policies, the world will be uninhabitable. His comments reflected the IPCC's insistence that all countries must reduce their fossil fuel use substantially, extend access to electricity, improve energy efficiency, and increase the use of alternative fuels, such as hydrogen to curb emissions affecting global warming.
As partners and influential decision-makers at businesses and companies, accountants are set to play a global and leading role in climate change and sustainability in line with the International Federation of Accountants (IFAC) stance. "Accountants as business advisors and leaders must therefore position themselves to support organisations strategically in integrating ESG matters for long-term sustainability," stated MIA President Dr. Veerinderjeet.
Continuing professional education in climate change and ESG is hence essential to support accountants in developing the requisite competencies for leading sustainability. "To help upskill and future-proof members, the Malaysian Institute of Accountants (MIA) is proud to present the next chapter of the MIA International Accountants Conference, coming to you virtually for the second year on a high-tech meeting and exhibition platform that facilitates connectivity, learning and collaboration," said the MIA International Accountants Conference Director G. Shanmugam, who is also MIA Executive Director, Strategy & Development.
The second virtual MIA International Accountants Conference 2022 will be held from 8-9 June, with the theme `Leading ESG, Charting Sustainability'. "Focusing on ESG and sustainability from the perspectives of accountants, the MIA Conference 2022 advocates for the profession to adopt and integrate ESG issues such as climate change, and carbon reporting and sustainability into the business agenda, while harnessing technologies and digital tools, for long-term agility, resilience and relevance," emphasised G. Shanmugam.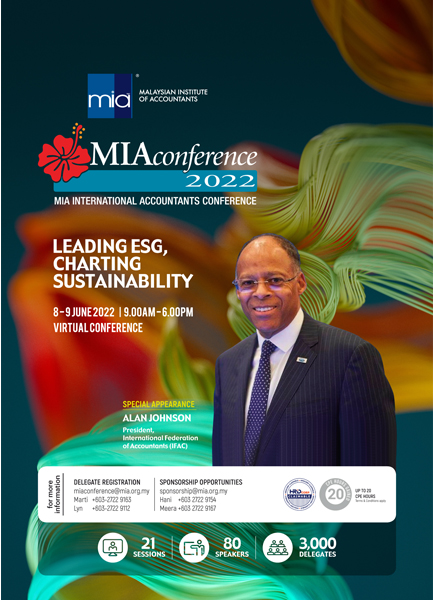 Throughout the Conference, over 80 top subject matter experts and thought leaders will share their insights into carefully curated topics. Delegates can expect the following highlights and benefits, among others:
* Special Address by IFAC President Alan Johnson – Professional Accountants: Driving ESG for Sustainability
Speaking on the bigger picture, IFAC President Alan Johnson will discuss the global profession's strategic and values-based response to the climate crisis. In particular, Alan will emphasise how accountants can harness their unique strengths within their expert domain to engage business on ESG and climate change actions and drive more sustainable decision-making.
* The Big Picture of Sustainability – understand the major sustainability developments, what companies embarking on their sustainability journey can expect, as well as net-zero initiatives by government and regulators.
* The Profession's Path to Net Zero – understand the profession's role, required competencies and the roles of accountancy leaders in accelerating climate action at their organisations to achieve net zero, which refers to a state of equilibrium whereby the amount of greenhouse gases entering the atmosphere is balanced by their equivalent removal. Reaching net zero is critical because this is the pathway to halting global warming.
* ESG-Related Developments in Financial Reporting and Non-Financial Reporting – looks at global standards boards and their issuance of new guidelines on ESG disclosure in financial and non-financial reporting for climate change accountability and actionability.
* Tax Governance as a driver for good governance and sustainability, through improved tax transparency and compliance and the mechanisms such as carbon taxes and tax incentives to incentivise net zero behaviour.
There will also be sessions on incorporating ESG risks into enterprise risk management frameworks and business models, the economic outlook beyond Omicron, enhancing data governance, understanding non-financial assurance engagements, aligning ESG with Shariah investments, impact of labour risks on supply chains and business performance, Public Sector environmental reporting, and strategies for reducing a business's carbon footprint.
By the end of the Conference, delegates will take away useful insights into ESG and sustainability that can be incorporated into their organisations for better business performance. At the same time, delegates will also be future-proofed and upskilled for a business landscape that is increasingly ESG-oriented.
Find out more here.