Greater transparency and accountability in the public sector are becoming increasingly important in carrying out the public sector agenda.
It is critical to instil the ideals of accountability, equity, and integrity as the foundation of a more open and clear decision-making and governance structure for public sector assets. Said strong governance in the public sector will then enable mechanisms that can have a substantial impact on organisations' attempts to minimise risks and achieve their goals.
As a pillar of good governance, the internal audit function in the public sector is expected to fulfil its role to replicate and innovate best and improved business practices. With the surge of digital technology and ESG principles, the internal audit function is also expected to integrate increased automation and the sustainability agenda to mitigate organisational risks that are growing in complexity.
To inspire internal auditors to step up and play a bigger role in monitoring and mitigating organisational and strategic risks while instilling ethics to spearhead good governance in the public sector, MIA and The Institute of Internal Auditors Malaysia will be organising the Public Sector Internal Audit Conference 2022 on 25 August 2022 at Connexion Conference & Events Centre @ Vertical, Bangsar South, Kuala Lumpur.
Following are the key session highlights scheduled for the Conference:
CYBERSECURITY RISK AND DATA INTEGRITY: PROTECTING THE PUBLIC DATA
Good governance is essential to protect public data from cybersecurity threats. In this session, delegates will be exposed to the overall duty and evolving roles of internal auditors in managing cyberrisks and ensuring data integrity in the interest of public data protection.
GOVERNANCE IN PUBLIC SECTORS: PROTECTING THE PUBLIC FUNDS
Learn how to strengthen IA procedures to increase accountability while also improving public sector performance and reporting for good governance in the public interest.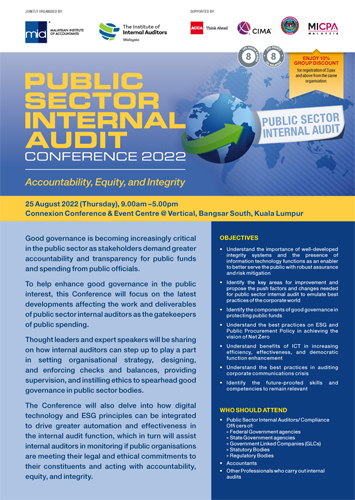 ESG AND PUBLIC PROCUREMENT POLICY: ACHIEVING THE NET ZERO TARGET BY 2050
Achieving the net zero target by 2050 will necessitate a fundamental shift towards the ESG agenda, which can only be accomplished if every organisation including public sector agencies works towards sustainability goals. This panel discussion examines how the internal audit function can better manage ESG and procurement risks and uphold integrity in practices and reporting to achieve the Government's net zero target.
ICT AS A SERVICE BY PUBLIC SECTORS: AUDITING THE EFFICACY AND EFFICIENCY OF ONLINE SERVICES
The use of information and communication technology (ICT) in the public sector has increased, bringing about related performance and security concerns. Discover the role of internal audit in managing the risks arising from the proliferation of public sector ICT services.
AUDITING CORPORATE COMMUNICATIONS: PR DISASTERS AND BETTER MANAGING PUBLIC PERCEPTION
Unexpected and disruptive events that affect the organisation or its stakeholders are rarely prevented. This session looks at the role of internal audit in analysing and assuring the organisational plan for crisis management and disaster.
INTERNAL AUDIT COMPETENCIES AND UPSKILLING: NEW AUDIT APPROACH IN REMOTE AUDITING ENVIRONMENT
The pandemic accelerated technology adoption, which also transformed the internal audit function and processes. This session highlights the necessity for internal auditors to learn new skills and competencies in remote auditing.
For more information on the Public Sector Internal Audit Conference 2022, please click here.