By MIA Practice Review Department
Pursuant to Paragraph (8) of Appendix VI of MIA By-Law, all members in public practice offering audit engagements are required to adhere to the standards as prescribed by the Institute. All members in public practice and their audit firms so engaged, must submit to practice review.
However, under certain circumstances, the audit firm can be exempted from practice review if they meet the criteria as stated in Paragraph (9) of the of Appendix VI of MIA By-Law, extracted as below:
Where a member in public practice holding a practising certificate completes a declaration in prescribed form certifying that he/she is not engaged in public practice services in so far as it pertains to audit engagements during the preceding twelve (12) months and does not intend to so practise for the foreseeable future, or that he/she will be discontinuing public practice in so far as it pertains to audit engagements in the immediate future (that is a maximum of three (3) months from the date of selection of the firm), he/she may be exempted from practice review at the discretion of the Practice Review Committee.
Since year end of 2020, the MIA Practice Review Department (PRD) has been actively reviewing the submission of annual returns by the audit firms so as to ensure the consistency and accuracy of our risk profiling mechanism, as well as the accuracy and completeness of information as disclosed in the annual return submitted to MIA.
The following are the steps that the audit firms (with zero audit clients) are required to perform if selected for practice review: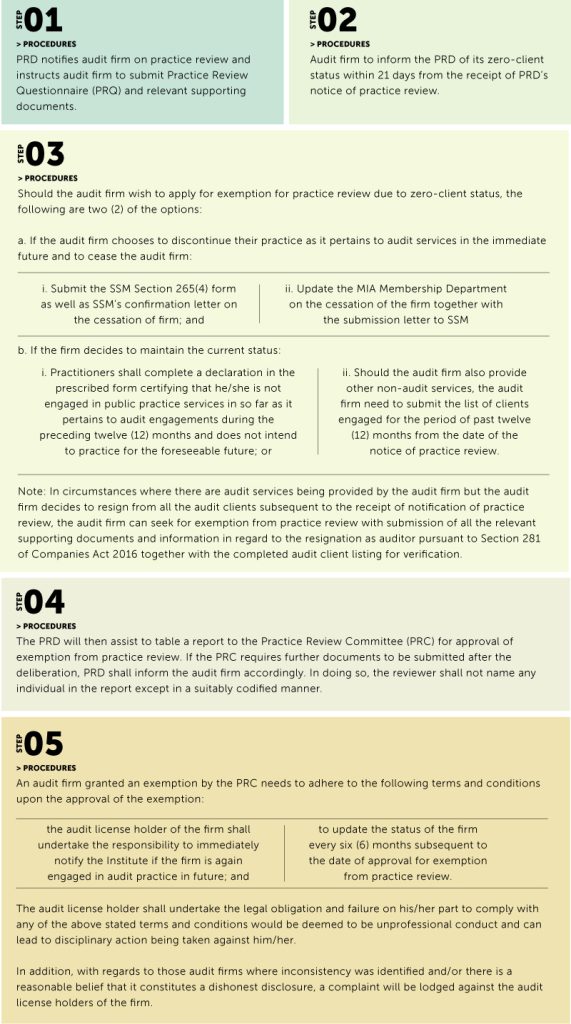 Conclusion
An audit is important as it provides credibility to a set of financial statements and gives the shareholders confidence that the accounts are true and fair. Therefore, auditors shall express an opinion on a subject only when it is based on adequate knowledge and honest conviction. Similarly, it is expected that audit practitioners should at all time, act in an ethical manner which will bring credit upon themselves, their audit firm and the quality of the auditing profession. Audit practitioners must avoid making false, unsupported or misleading statements that will bring reputational risk to their firms.