By Zaiman Hisham
The Government is a large organisation and among its many purposes are to provide public goods and services and represent the interests of the people. Amidst the ever-changing digital landscape, the government too has embarked on digitalisation in order to serve the people better.
Digitalisation offers the Government new ways of creating, delivering and capturing value while facilitating effective relationships between the government and the people. Today, the Government uses digital technologies to redesign and improve public services, ranging from adopting technologies to streamline government processes to using data analytics to improve decision-making.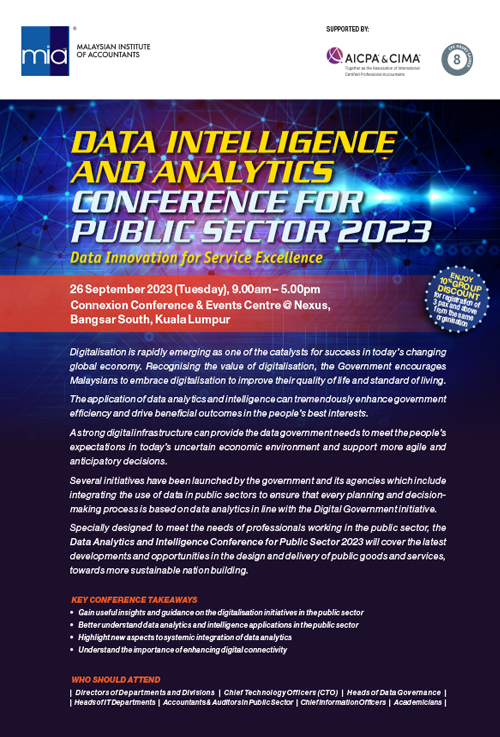 As of 2023, the Government has introduced several digitalisation initiatives that can bring about many benefits to its agencies and the people, with increased communication, efficiency, transparency, and public engagement. Public servants can benefit from public sector digitalisation by having easier access to information and tools they need to do their jobs, thus making processes more efficient. In turn, the Government's digitalisation initiatives benefit the public by enabling better online services, easier access to information and increased transparency that help build trust between the public and the Government.
As a regulatory body of the accountancy profession in Malaysia serving more than 38,000 members along with various partners and stakeholders, the Malaysian Institute of Accountants (MIA) strongly advocates the use of digital technologies in public services to keep up with the evolving and challenging demands in serving the public interest.
As part of our advocacy, MIA will be organising the Data Intelligence and Analytics Conference for Public Sector 2023 on 26 September 2023 at Connexion Conference & Events Centre @ Nexus, Bangsar South, Kuala Lumpur from 9.00 a.m. – 5.00 p.m.
The Data Intelligence and Analytics Conference for Public Sector 2023 with the theme "Data Innovation for Service Excellence" will feature experts from the public sector, financial and information technology (IT) industries who will discuss the latest Government digitalisation initiatives and new emerging technologies. Delegates can expect the following takeaways from the conference:
Gain useful insights and guidance on the digitalisation initiatives in the public sector
Better understand data analytics and intelligence applications in the public sector
Highlight new aspects to systemic integration of data analytics
Understand the importance of enhancing digital connectivity
Explore the challenges and best practices for implementing digitalisation and AI in Government.
The Conference will feature Panel Discussions and Knowledge Sharing by reputable speakers as follows: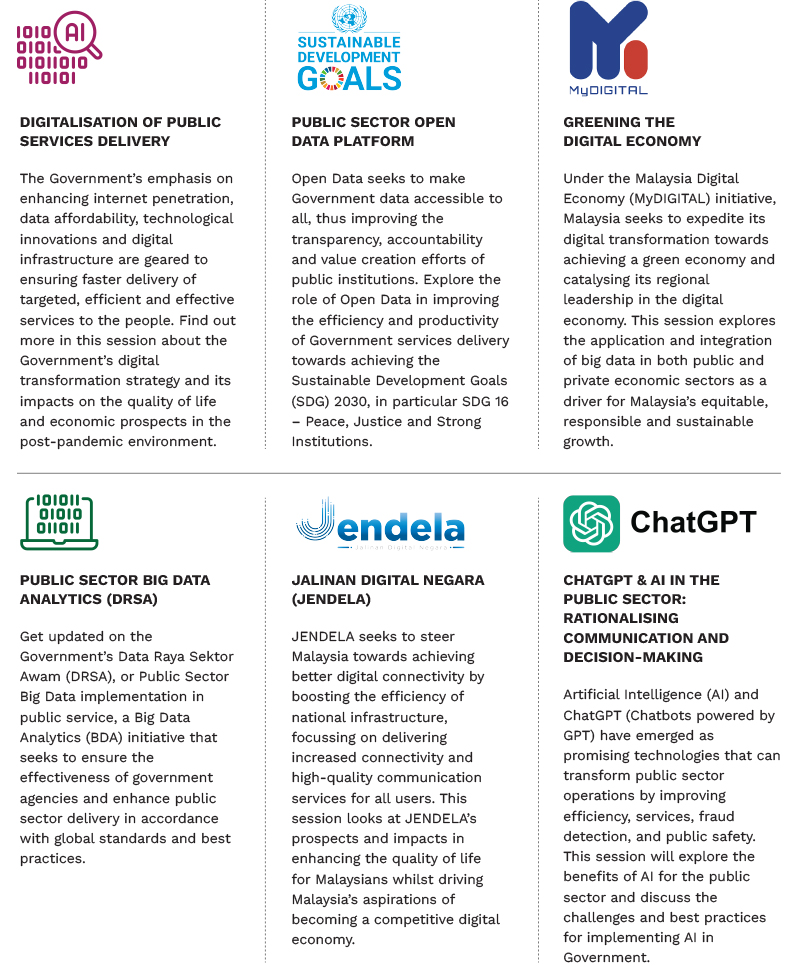 ---
To learn more about the Conference and to register, please click here.