Steered by the theme "Leading ESG, Charting Sustainability", the MIA International Accountants Conference 2022 (MIA Conference 2022) sought to upskill accountants with future-relevant competencies to lead and support ESG implementation for business sustainability. It is increasingly critical that businesses integrate ESG (environment, social and governance) considerations into their strategies and outcomes, as the climate crisis and poor governance emerge as the leading risks to humanity and the planet.
The Conference was organised by the Malaysian Institute of Accountants (MIA) from 8 – 9 June 2022 for the second year on a virtual platform.
Recognised as one of the largest accountancy conferences, the Conference was officiated by Malaysia's Finance Minister, YB Senator Tengku Datuk Seri Utama Zafrul Tengku Abdul Aziz and drew close to 3,000 Malaysian and international delegates and over 70 expert speakers from around the world – including Bursa Malaysia Chairman Tan Sri Abdul Wahid Omar and the President of the International Federation of Accountants (IFAC), Alan Johnson – as well as global sponsors, supporters, and partners.
In his address, Tengku Zafrul outlined the Government's Reformist & Responsible efforts to support the nation's ESG aspirations towards achieving climate and socio-economic resilience. Accordingly, the Ministry of Finance (MoF) has prioritised three main strategies to drive sustainable nation building:
Strengthening sustainability-related financing, which complements the UN Sustainable Development Goals (SDGs) by coordinating initiatives and programmes inculcating the elements of ESG. Specifically, at the ministry and national level, via the annual budgets, the MOF has tagged all programmes and projects under the development expenditure to the SDGs. "Not many are aware that Malaysia is among 10 countries in the world that have fully aligned their national budget measures to the SDGs," stated Tengku Zafrul.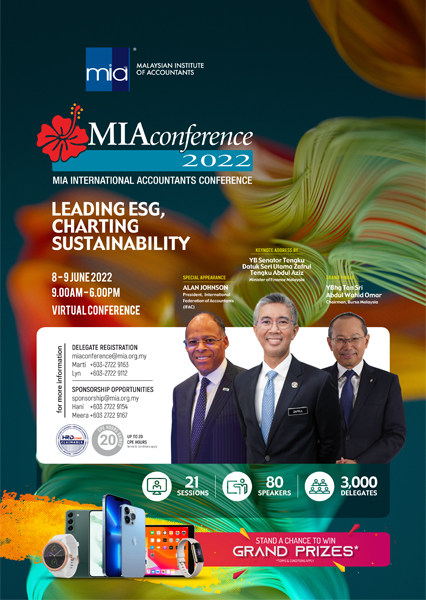 Developing the capacity of Malaysian SMEs, as the SME sector is a key contributor to the economy and employs almost 50% of the nation's workforce. "Through the recently launched Principles for Good Governance (or PGG) to be implemented by the Government-Linked Investment Companies (GLICs), we aim to catalyse the embracing of ESG principles by SMEs," said Tengku Zafrul.
The six GLICs – EPF, PNB, KWAP, Khazanah Nasional Berhad; Lembaga Tabung Haji dan Lembaga Tabung Angkatan Tentera – collectively manage RM1.7 trillion of assets and support a huge ecosystem comprising SMEs. The PGG implementation will equip the GLICs-SMEs ecosystem for the growing demands of the global ESG-related market and investments. Budget 2022 also provides specific financing measures to support SMEs in integrating ESG principles into their operations.
Institutionalising ESG through the establishment of the Malaysia Sustainable Development Goals Trust Fund (MySDG Fund) by the Government of Malaysia, through the MOF and in collaboration with the United Nations (UN) in Malaysia.
Tengku Zafrul commended MIA and the accountancy profession for their efforts to uphold good governance in the public interest. He said that in galvanising the nation towards achieving its ESG vision, from the Government's standpoint, auditors and accountants have a great responsibility to:
Help companies (including corporates, GLICs and SMEs) improve their ESG standing and practices, particularly the 'G' or governance in ESG, based on global standards and frameworks. The Minister commended MIA for actively advocating for sustainability reporting based on international ESG standards and frameworks on climate reporting, such as the Task Force on Climate-Related Financial Disclosures (TCFD), which are critical to drive actions and implementation on ESG and climate change and to support decision-making by investors, capital providers and customers.
Upskill themselves to master the technical competencies required for ESG reporting, as ESG risks are both business and investment risks. "As auditors of your clients' financials, you all have a responsibility to help quantify value creation, its preservation or erosion as a result of these ESG risks. Entities like the MIA need to also help develop industry-specific standards to guide the disclosure of financially material sustainability information by companies to their stakeholders such as customers, civil society, and policymakers like MOF," stated the Minister.
Advocate for tax compliance – an important aspect of Governance in ESG – because it supports the nation's fiscal sustainability, which is crucial for continued socio-economic development. The Minister commended MIA's advocacy on tax governance, which focuses on addressing non-compliance and systemic inefficiencies, especially post-COVID-19, when tax collection has been constrained by business losses.
Commenting on fiscal reforms, Tengku Zafrul shared that "The MOF is looking to table the Fiscal Responsibility Act in the upcoming Parliament session, which includes efforts to broaden our tax base – including taxing the shadow economy – and improve tax compliance and administration towards helping boost tax collection."
In his welcome remarks, MIA President Datuk Bazlan Osman (then Vice President) reiterated MIA's commitment to upholding good governance as the regulator and developer of the Malaysian accountancy profession governed by the Accountants Act 1967. MIA will continue to advocate and upskill members on ESG and to inculcate the profession's professional practices and values, in support of sustainable nation building, he said. "As strategic advisors and partners to business, accountants are at the frontline, therefore, we are expected to be cognisant of the key risks and opportunities facing business and to respond with foresight, insight, agility, adaptability, and resilience," advised Datuk Bazlan.
To help delegates get started on their ESG journey, MIA awarded a Digital Badge to all delegates that signed up for the MIA Pledge to tackle Climate Change during the MIA Conference.