The Malaysian Institute of Accountants (MIA) continues to staunchly prioritise digital transformation to ensure that the profession stays relevant and future-proof in a highly challenging digital landscape.
Digital transformation is an imperative for the Malaysian accounting profession as implementation of key technologies are already revolutionising the accounting industry by making tasks quicker, more accurate, and more efficient. One, repetitive tasks such as data entry and invoice processing can be automated, freeing up accountants to focus on higher-level and higher value complex and strategic tasks. Two, technologies such as data analytics could be utilised to analyse large amounts of data and identify patterns and trends, allowing accountants to make more informed decisions. Three, technology adoption could support accountants in financial forecasting, enabling them to use historical financial data to make predictions, identify potential issues, and make more informed decisions and recommendations on future financial performance. Four, technology can support audit professionals by enhancing their ability to detect any anomalies, errors or fraud in financial data, to further improve the accuracy and reliability of financial statements.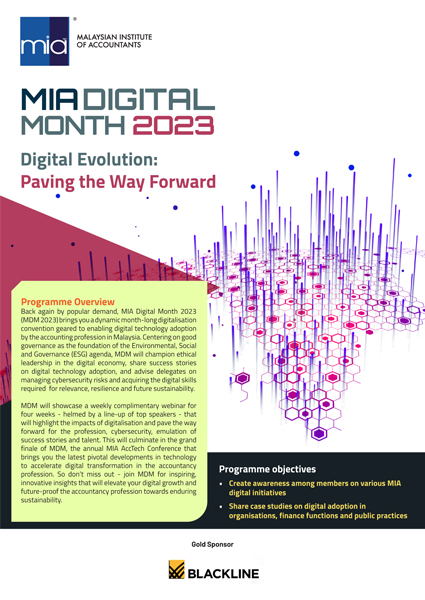 MIA's endeavours to promote the digital transformation of the Malaysian profession are being spearheaded in 2023 by the MIA Digital Month 2023 (MDM 2023), a dynamic month-long digitalisation learning series geared to enabling digital technology adoption by the accounting profession in Malaysia. Over four weeks, MDM 2023 will showcase a weekly complimentary webinar that will champion ethical leadership in the digital economy, share success stories on digital technology adoption, and proffer advice on managing cybersecurity risks and acquiring the digital skills required for relevance, resilience and future sustainability of the accounting profession.
MDM 2023 will culminate in the grand finale, the annual MIA AccTech Conference that highlights the latest pivotal developments in technology to accelerate the profession's digital transformation.
Throughout MDM 2023 and AccTech, accountants will see how to adopt and benefit from these technologies – spanning cloud accounting, Enterprise Resource Planning (ERP), finance transformation, cybersecurity, data Intelligence/analytics, and tech-driven business innovation – to make work easier and deliver improved outcomes. Our expert speakers will guide you on how to apply these tools together with human oversight and interpretation, to make the most of an accountant's professional judgement, ethical reasoning, and communication skills that can elevate organisations and future-proof the profession, while advancing its nation building purpose.
MIA Digital Month 2023 (MDM 2023) will take place from 16 February to 8 March 2023, culminating in the grand finale of the MIA AccTech Conference on 14 March 2023. For more information, please click here.