By Majella Gomes
For years, Tan Sri Dato' Setia Haji Ambrin Buang's role as the former Auditor-General from 2006 to 2017 was to bring corruption, fraud and mismanagement in the public sector to the attention of the authorities. But his findings, although published, were usually marked 'No Further Action.'
In June 2018 however, the new government appointed him as Chairman of the Special Committee on Procurement, Governance and Finance, which is tasked with investigating and improving government processes, particularly public procurement and administrative procedures.
The scope of his new role in public procurement is as daunting as his previous role, as the public sector's purchase of goods and services accounts for more than RM60 billion annually. "This is big business for the private sector," he said. "It's very lucrative – and the government is a good paymaster!"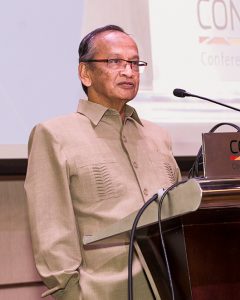 Strengthening Internal Audit
Internal audit is a key pillar in ensuring good risk management and good governance in procurement and administration. However, in his closing lecture at the recent MIA Public Sector Internal Audit Conference 2018, Tan Sri Ambrin flagged some key concerns that compromised the value of internal audit in the public sector, particularly where government procurement was concerned.
One challenge was that "anybody could become an auditor – no training was required." But the National Audit Department seconded officers to government departments to pick up on the issues on the ground after the government agreed to caderise the internal audit posts in various ministries and agencies several years ago.
Weak independence and objectivity were more difficult roadblocks. In the private sector, the internal audit function reports to the Board of Directors, whereas in the Malaysian public sector the role of internal audit is defined by the controlling officer who in most cases is the Secretary-General or the Director-General of the department.
They have the power to decide whether or not to act on the audit report – which could cause awkward situations if the auditing officer's confidential report implies wrong doing on the part of these officers. "This could lead to frustration because you cannot be too critical of the boss!" Tan Sri Ambrin said, recalling that some years ago, the government policy was that reports could be sent directly to the Auditor-General if they were ignored by the auditing officer's immediate superior, but no cases were reported.
"I don't know if this happened because of fear (of consequences) but there have been serious lapses in government, and in the procurement process," he acknowledged. Regulations pertaining to government procurement have been neglected over the years, resulting in increased fraud, corruption and circumvention of the law in relation to public sector procurement. The number of government procurement exercises stretched the audit department's capabilities, resulting in cost overruns and delays. "Public interest was not protected; the government did not get value for money," he said.
Instead of a proper tendering process, direct negotiation of contracts became de rigueur. In reality, there was no 'negotiation'; instead, there was extensive political influence on decision-making. "In the early 1970s and 80s, schools, hospitals, roads, bridges were all tendered out," Tan Sri Ambrin recalled. "But these later became 'direct negotiation' projects. Things that can be tendered should be publicly tendered. Government procurement should be given priority."
A New Regime
What are some of the best practices put in place recently to improve the new government's procurement and administrative processes?
One, the practice of controlling officers receiving 'Instructions' pertaining to contracts has ceased. Tenders are the norm with the only exception being an emergency or where intellectual property is involved. Tender documents are now available on websites. No supporting letters are required or will be effective, thereby lessening political intervention in economic decisions.
Two, due diligence will have to cover price comparisons and every aspect of the tendering company, including background checks into its financials, operational capability and experience. "Prices accepted without comparison indicate collusion or fraud," he asserted.
Three, auditors are urged to read the reports of other ministries and departments to flag procurement and administrative issues like improper planning, political influence, and action against errant contractors. "You must know the issues if you want to protect government interests," emphasised Tan Sri Ambrin, citing examples where the lack of understanding of issues eventually led to the government suffering losses.
He urged internal auditors to access the Auditor-General's Dashboard to monitor current issues, stressing that merely exposing weaknesses was not enough. These must be remedied, and for this to happen, auditors will have to be more vigilant, competent, sceptical and discerning.