'ABCD is going to form the foundation of everything we do as accountants,' says the International Federation of Accountants President.
By Nazatul Izma
How can accountants embrace tech more easily? Think ABCD – where A stands for artificial intelligence with a subset of robotics, B for blockchain, C for cybersecurity and D for data and data analytics.
This is how the International Federation of Accountants (IFAC) has stripped down tech to make it accessible, relevant and easy for accountants of today and tomorrow. 'Now we have a whole new definition of ABCD. That's as hard as it needs to be,' said Rachel Grimes, President of the International Federation of Accountants (IFAC) to a 400-strong crowd at the inaugural MIA AccTech Conference 2018. 'The ABCD is really going to form the foundation of everything we do as accountants.'
ABCD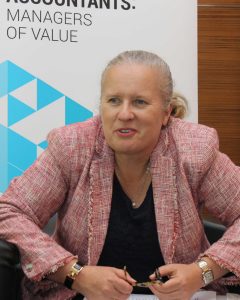 In her day job as Chief Financial Officer, Technology, Transformation and Operations at multinational financial services firm Westpac, also Australia's oldest and second-largest company and largest bank, Rachel is in the thick of tech-driven transformation that has reaped 'tangible results.'
Since the addition of transformation and operations to her CFO technology portfolio in early March 2018, she found smart accountants doing the repetitive work of accounts payable and invoicing. 'So, we put AI robotics into accounts payable, not to replace any jobs but to make the jobs more exciting. Those same smart people still work in accounts payable but instead of matching invoices they are working with every vendor to ask 'How can we work with you better? How can we offer you more opportunities? How can we pay our invoices on time and get discounts?' Instead of looking backwards, those people in accounts payable are now looking forward. They are adding value and saving money and making their jobs more interesting.'
'What we have done with AI, specifically robotics, is taken away the more mundane and more compliance-focused parts of our jobs. We are removing the work that people think make accountants boring. Accountants aren't boring; this is the most exciting profession in the world! And there is no more exciting time to be an accountant than now because of the technology.'
A key application for blockchain in accounting is for inventory, although blockchain hasn't taken off as fast as predicted, she said. Rachel told the story of Australian vineyards exporting wine to the Asian markets – 'they know where every bottle is going because of blockchain and they can trace the ownership.'
She rubbished talk that blockchain's distributed ledger model will make auditors obsolete. 'The control environment around blockchain will make auditing more efficient and an easier process, but we will always need auditors to assist.'
Cybersecurity is the issue that keeps every director and CEO awake at night. 'Cybersecurity debacles are the only single thing that can wipe out an entire Board and the management,' said Rachel. 'Accountants are perfectly placed to assist in the governance around IT and cybersecurity. They don't necessarily have to be technical. But the controls framework in the first instance can eliminate a lot of the risks. Accountants are great at defining and realising what the risks are.'
Data and data analytics will drive new ways of thinking about audit and assurance and managing data. Rachel shared an anecdote about an auditor-general in Canada, who set out to perform 100% sample testing of a government entity. The data turned up 150,000 variations. So, she asked her staff: 'Are we testing the right controls? What skillsets do we need to analyse this data now that we've had so many variations?'' Of course that auditor- general was also responsible for monitoring the bear population her Canadian province, so they are always looking at new technology to assist its annual bear count.
Data and data analytics can also unlock new value and new roles for accountants. While pet-sitting, Rachel bought dog food. The next day, she received a cross-selling e-mail asking if she wanted pet insurance. She investigated the organisation to find out more about who was behind this initiative. 'It was an accountant! They've realised the value of the data that they had and they were looking to increase the revenue. That's fun, that's a great opportunity and that's valuable.'
Standards and Technology
Everyday there are technological advances that change the way accountants perform their work so one of the key challenges for standard setters is how to keep up to date. IFAC has oversight of the audit and assurance standards, the education standards, the ethics standards as well as the public sector standards. Financial reporting standards are the province of the International Accounting Standards Board (IASB) while valuation standards come under the International Valuation Standards Council (IVSC).
"One of the most valuable assets in any entity in the world is data" said Rachel. She shared that membership organisations all over the world, for example, share data within relevant privacy provisions to earn substantial revenue streams. "From member organisations being able to offer members cheaper deals on all sorts of services and experiences, to just about every app we download on smartphones, the data collected is a value-generator. But from where is it derived? There is nothing in the balance sheet. Data is valuable and accountants can play a real role in recognising that.'
Technology plays a real role in producing inventory and sometimes human intervention is not possible, yet our standards request that the auditor be present for stocktake. Rachel relates the anecdote of an audit partner in Norway who cannot comply with the standard because all the company's stocktakes she audits are fully automated. Namely, she is supposed to inventory fish products in a hi-tech factory where no humans are allowed in to prevent contamination from end-to-end. 'In go the fish and out comes the final product. No human intervention. So, she gets a black mark against her name because technology has overtaken the audit standards.'
To mitigate all these issues, Rachel exhorts all accountants, not just the standard setters, to keep up-to-date, lobby and fight to change the standards. 'Asia's voice is so important. The Malaysian accountancy profession should make sure its voice is heard and then pick up the phone and call their neighbouring professions. Every time there is an exposure draft, you should have a look at it and put your hand up to share your experience.'
Technology – an advantage for developing economies
Technology is creating a more level playing field for developing countries. They don't have the legacy systems of old economies that cost a lot to maintain and they have populations who are keen to adopt advances. This can be seen across Africa and Asia.
Costs per unit of technology are becoming cheaper but as technology is adopted technology expenses are increasing but real savings are being made in other parts of the business – for example less property costs.
This is an exciting time for businesses everywhere.
Don't Fear the Future
Wrapping up, Rachel said that accountants don't need to fear the future because the status quo is still a 'two-speed technology economy' where existing tech is still going to be used for some time. However, newer technology will displace old school tools. "Get on board with the new tech. Learn as much as you can. Everybody needs to adopt technology".
"I know the standard setters are constantly reviewing standards to ensure they meet the needs of the public interest – accountants must also review their skillsets, invest in themselves and embrace a profession that encourages lifelong learning.
IFAC also believes governments and regulators must work together to produce smart regulation. The accounting profession and business have a real role to play to ensure regulation is fair, consistent and proportionate to the problem it's meant to be addressing.
IFAC has developed 10 principles for good regulation, including measuring post-implementation impact. Rachel describes good regulation as 'smart regulation'.  "Regulation is an essential feature of strong economies and nations that govern in the public interest. Accountants are better placed than many to provide input, for example, on how a new business law or regulation could impact cross-border activity".
At the global level, IFAC has been calling for greater international collaboration on important regulation governing the financial ecosystem. "An IFAC study this year found the global cost to financial institutions of compliance with the vast array of cross-border regulation was USD780 billion … and that is a conservative estimate."