By Rasmimi Ramli
Developing a technology adoption strategy is crucial for small and medium practices (SMPs) to be relevant in the evolving digital economy. This article lists the guidance, resources, and tools available to SMPs in Malaysia for crafting a viable and effective technology adoption strategy.
The MIA Digital Technology Blueprint outlines five principles to be considered in developing a strategy to adopt technology in an organisation. The five principles are:
Assess digital technology trends and identify capabilities
The International Federation of Accountants (IFAC) Practice Transformation Action Plan (PTAP) sets out four key areas for practice transformation to be successful as follows:

The PTAP further iterated that one of the key initiatives for SMPs to successfully adopt and embed technology is aligning technology with the long-term strategy. The Blueprint aspires for members in public practice to retain, reimagine and innovate practices and services¹. SMPs may seek to harness technology developments to improve efficiency, client service or profitability. This could include remote access, document management and scanning, using multi-screens, website improvements and using software packages for time sheets, billing and monitoring recovery rates².
It is critical for SMPs to be aware of various digital technology trends and understand how the trends affect their own processes and practices as well as their client service offerings. This can be done through attending webinars, seminars, online learnings and conferences as well as having conversations within their networks.
MIA provides various professional development programmes for members on technology topics which can be accessed at https://pd.mia.org.my. In addition, MIA also encourages members to use the PwC's Digital Fitness App – a free self-assessment tool that assesses one's digital fitness by giving a score. The tool provides access to a rich library of resources that enables one to improve his or her digital awareness and knowledge. For more information on the App, check out the article on Why Self-Assessments Should be the First Step in Building Your Digital Skills.
At the same time, SMPs need to identify their capabilities, build differentiated skills and innovate. SMPs need to identify the skillset that they or their staff need in order to adopt technology and develop accordingly. For example, they can attend detailed trainings or obtain certifications on relevant technology. MIA does provide such trainings in collaboration with third parties such as technology providers as well as international organisations. In addition, SMPs would also need to attract talent with the right skills. Identifying a 'project champion' to lead a digital adoption initiative will allow for stronger communication with the team throughout the process and ensure a successful and impactful implementation of the technology adoption strategy.
Harness digital technology
This principle relates to capitalising on the appropriate technology in the SMPs. As mentioned earlier, such technology must be in line with the SMPs' long-term strategy. SMPs then need to identify their current digital competency and compare that with the required competency to achieve the long-term strategy.
Self-assessment of digital competency
One way to do that is by undertaking a digital self-assessment to determine their level of digital maturity, by completing the EFAA³ Digital Competency Maturity Model (DCMM). The DCMM has four sections as follows: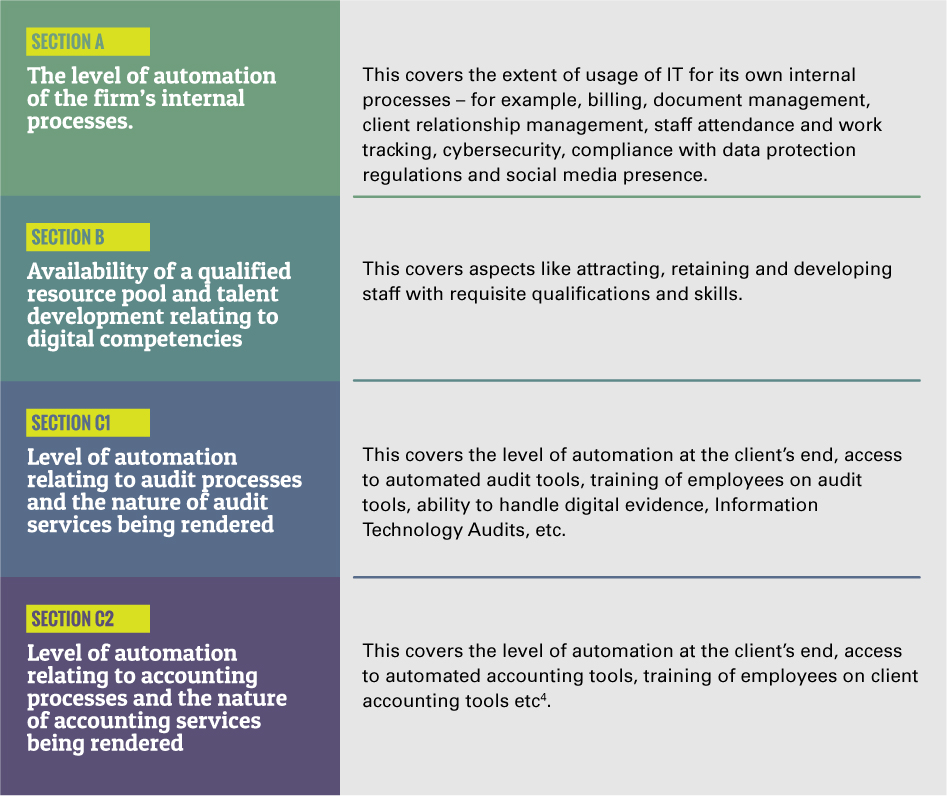 By completing the DCMM, SMPs would be able to:
Rate their respective current level of maturity on digital competency;
Identify areas where competencies are strong or lacking; and
Develop a roadmap for achieving a higher level of maturity.
The Institute is calling all SMPs to utilise the DCMM tool as part of their digital transformation journey.
Guidance and database
While many SMPs are aware of the benefits of digital adoption as evidenced in our 2019 and 2017 survey on 'Technology Adoption by the Accountancy Profession in Malaysia', often SMPs lack the resources to implement a dedicated function to tackle technology and technology adoption. As such, they are unlikely to develop technology on their own and will look to adopt mature technologies as opposed to technologies that are in their infancy.
At the same time, also due to the lack of internal resources, they are unlikely to develop their own guidelines and policies to assist them in the selection of software and/or software vendors⁵. In order to address this, MIA has issued the MIA Guidance on Software & Software Vendor Selection (Guidance). In selecting software, the Guidance sets out fifteen factors for SMPs to consider as follows:

The Guidance also provides guidelines on selecting the appropriate vendors for the software selected. Module 5 – Leveraging Technologies of the IFAC Guide to Practice Management for Small- and Medium-Sized Practices also provides guidance on leveraging technology by SMPs which includes discussion on various new and emerging technologies, how to develop a technology strategy, determining hardware and software options and understanding technology risks.
SMPs may also not necessarily have the time or resources to perform extensive research in looking for a vendor to supply their technology needs⁶. Hence, SMPs can refer to the MIA Software Vendor Database, a directory of companies that provide software to address five areas that have been identified, namely, accounting, tax, auditing, practice management and systems integration. The Database can be read together with the Guidance to help SMPs in choosing a suitable and appropriate software and software vendor.
Coaching programme
SMPs are also encouraged to participate in the MDEC⁷ 100 Go Digital Coaching Programme which was recently launched. The Programme is made up of three key components as follows:
Coaching session which includes the identification of pain points and challenges as well as sharing of practical guidance by renowned companies.
Provision of recommendations of digital solutions and incorporation of strategy into business plans.
Tracking and monitoring of progress by MDEC to ensure participants stay on the right track and receive intervention and assistance where required.
Funding
SMPs need to determine the budget required for a technology adoption plan and identify financing options either internally or externally. A realistic budget should be allocated. While the actual final amount may differ, allocating an amount at the outset will provide SMPs with a feeling of serious commitment to the implementation and ensure that it is given priority.
MIA has identified and engaged with MDEC on the following grants, which have now been made available for application by SMPs: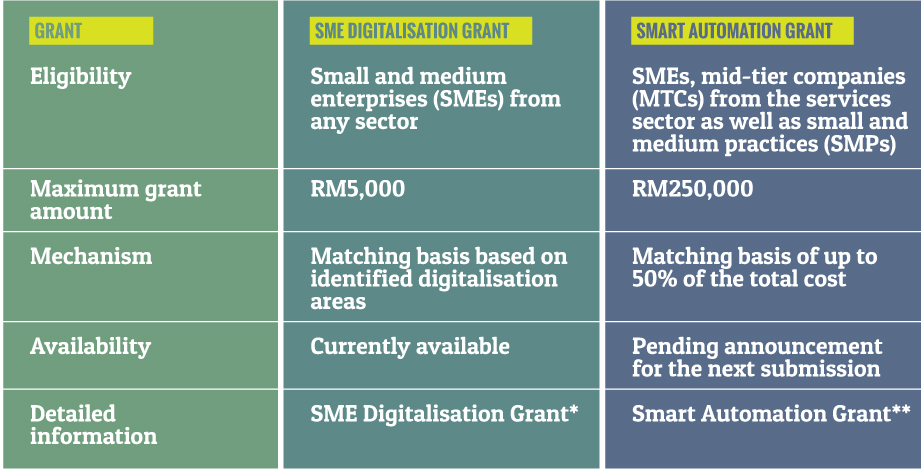 *https://mdec.my/digital-economy-initiatives/for-the-industry/sme-digitalisation-grant/
**https://mdec.my/digital-economy-initiatives/for-the-industry/smart-automation-grant/
Governance
Finally, SMPs need to adhere to good governance practices through adoption of industry and regulatory requirements. This would include setting a proper governance in technology adoption plan such as getting appropriate approval from top management on the adoption plan and budget with interval reviews and updates as well as adopting relevant policies and procedures such as an IT Policy.
SMPs should also ensure compliance with relevant legislations when adopting technology. For example, in adopting accounting software, SMPs need to ensure the software complies and is updated with the accounting standards requirements.
Conclusion
Developing a strategy for technology adoption is crucial so that SMPs approach technology adoption with necessary care and planning. Undertaking digital adoption without a strategy can result in poor decisions, resulting in increased cost, loss of productivity as well as loss of benefits that could have been avoided if better decisions were made. SMPs should also classify the strategy into short-term and long-term and review it on a regular basis, as technology and the environment in which SMPs are operating are volatile.
---
¹ Malaysian Institute of Accountants (MIA), 2018, MIA Digital Technology Blueprint – Preparing the Malaysian Accountancy Profession for the Digital World
² International Federation of Accountants (IFAC), 2020, Practice Transformation Action Plan – A Roadmap to the Future
³ European Federation of Accountants and Auditors for SMEs
⁴ EFAA, 2020, EFAA Digital Competency Maturity Model: Recommendations from Initial Results
⁵ MIA, 2021, Guidance on Software & Software Vendor Selection
⁶ MIA, 2021, Software Vendor Database
⁷ Malaysia Digital Economy Corporation

---
Rasmimi Ramli is the Deputy Executive Director of the Digital Economy, Reporting & Risk of MIA.