For many years, the word and term accountants often conjured up the image of a deskbound, suit-wearing employee, calculator on one hand, and sheaves of papers with numbers on the other.
But this has changed. As the expectations on accountants continue to evolve, they now have increasing roles and responsibilities in order to remain future relevant.
A key area where accountants are expected to play a bigger role is in Environmental, Social and Governance (ESG) and business. Companies have identified ESG factors as both risk and opportunity for the sustainability of their business. As financial managers, information providers and decision makers across all organisations, accountants must be prepared to advise and lead on ESG in the boardroom and C-suites.
The upcoming C2ESG: Climate Change and ESG Conference, an event organised by the Malaysian Institute of Accountants (MIA) aims to create awareness and build up the accountancy profession's capability and competencies in navigating climate change. With this year's theme of "Accountants as Champions of Climate Change & Sustainability", the C2ESG aims to highlight the important role that the accountancy profession and professional accountants will play in guiding both the public and private sectors in adapting organisational strategy and implementing plans for responding to climate change risks, with agility and resilience.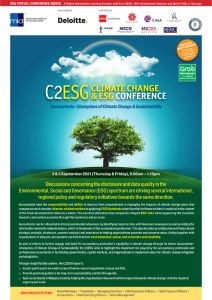 The Conference will cover areas such as:
How to begin adapting the ESG agenda and future-proofing a long-term, sustainable approach – Accountants have the responsibility and influence to drive sustainable behaviours by identifying material risks with financial consequences, which in turn helps organisations make informed decisions. Participants will learn about the principles behind the sustainability agenda, value creation for ESG, how to kick-start their ESG reporting journey and identify sustainability trends that will materially impact business strategies and operations.
The role of accountants in addressing the ESG agenda and driving change – As financial advisors in an organisation, accountants can offer unique insights by crunching the relevant social, environmental and economic data, creating the required analysis and reports, and leveraging on these to guide business decisions. The Conference speakers will discuss the meaningful actions finance professionals can take to spur the need for change within their organisations with the required urgency and scale.
Digital strategies and measuring climate risk – Participants will learn how to use data, metrics and targets to measure climate risk and understand how digitalisation can enhance data and analytics for ESG-related solutions such as sentiment analysis for employee and safety culture.
Scaling corporate performance and a call to action – Our panel of expert speakers will discuss how to get value creation propositions right within the context of ESG to improve corporate performance and realign an organisation's business model with the sustainable business agenda. At the end of the Conference, MIA will call upon its members to sign an online call to action to help affirm the accountancy profession's commitment in helping organisations respond towards climate change.